August 6, 2019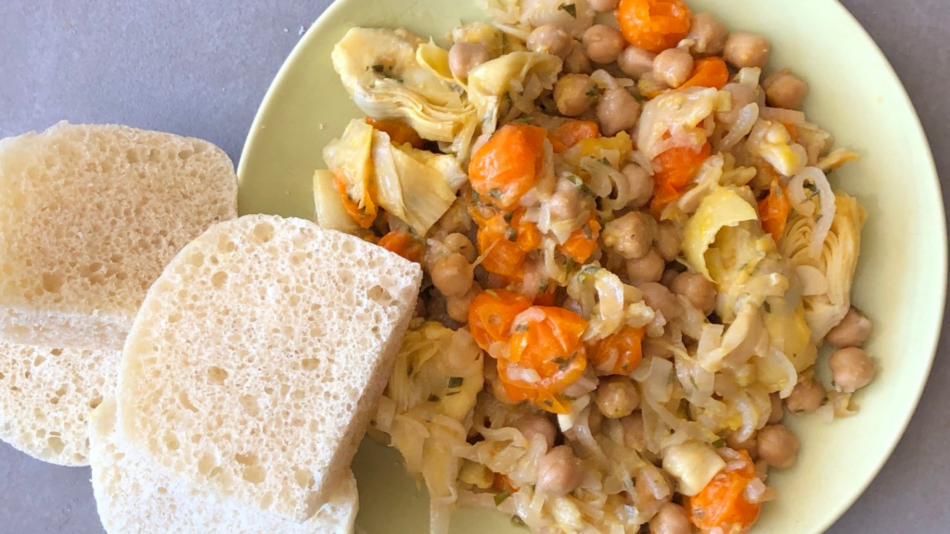 ---
This sounds super fancy but it's really nothing more than a braise. It's a one-pot meal (woo hoo!) and very simple to make. I served it with crusty French bread for sopping up the delicious juices. It pairs great with a crisp green salad drizzled with a light vinaigrette.
Artichokes and Chickpeas with Tomatoes in White Wine Sauce
Ingredients:
1 Tbsp olive oil
5 shallots, thinly sliced
1 tsp kosher salt
5 cloves garlic, thinly sliced
2 bay leaves
1/2 cup dry white wine
3 cups yellow cherry tomatoes
1 15-oz can artichoke hearts, drained and sliced in half
1 15-oz can chickpeas, drained and rinsed
1 Tbsp chopped fresh tarragon
1/4 tsp black pepper
Crusty bread, toasted (for serving)
Directions:
Heat the olive oil in a Dutch oven or large pan. Add shallots and cook until soft and golden (about 2 minutes). 
Add garlic and bay leaves. Cook until garlic is golden (about 2 minutes). Add the wine and simmer for 30 seconds.
Add the tomatoes and cover. Cook 8-10 minutes until tomatoes are almost bursting.
Add the artichokes and chickpeas. Cover and cook 4-6 minutes until heated all the way through. 
Remove from heat and sprinkle with the fresh tarragon.
Serve alongside toasted French bread.
---