May 19, 2021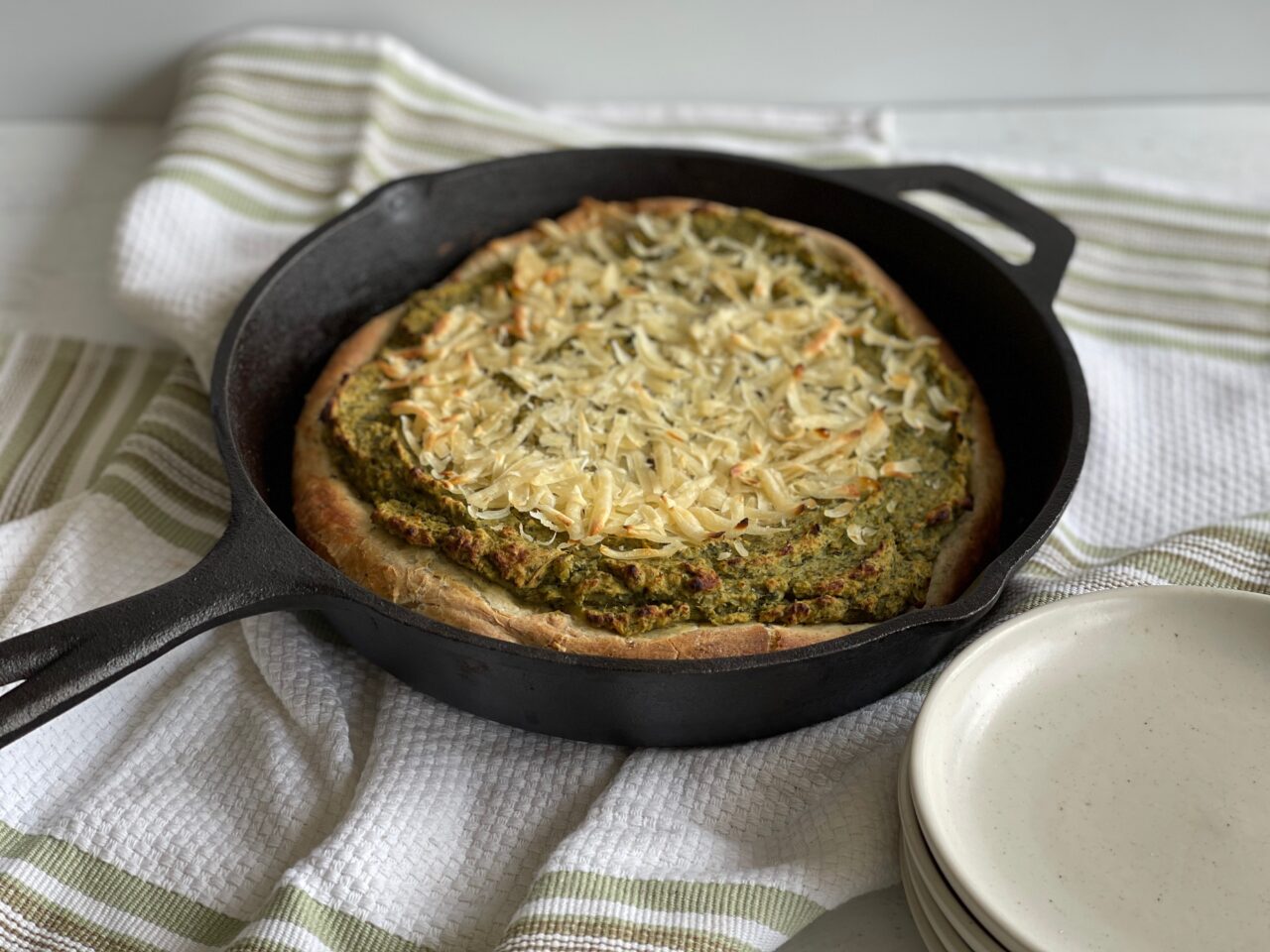 ---
(This post is sponsored. I received compensation to write this post but all opinions and ideas are mine alone.)
Do you love pizza night? This Spinach & Artichoke Skillet Pizza is going to help you take it to the NEXT level! It all starts with a skillet. If you've never made a skillet pizza, you're in for a treat. It's not only easy but the clean up is way easier than using a traditional pizza stone or pan. I found I didn't even need my rolling pin. I could just stretch the dough to the shape I needed.
The perfect skillet pizza starts with the perfect skillet. My go to is the 10″ Skillet from Karibe. Karibe's skillet has been my favorite pan for several recipes including this vegan frittata and also this lasagna. This skillet is the perfect size for a family pizza and is ideal for creating a "deep dish" style of pizza. It cooks the crust beautifully even – across the bottom and also around the edges. I also love how easily it comes up from the pan to slice and serve (unlike a traditional pizza pan in my experience).
Karibe's skillet is the real secret ingredient to this recipe, but I've also got another tip that makes for perfect fluffy dough: Allow it to rise in a bowl (covered with a cloth) for at least an hour. Instead of rolling out your dough, stretch and toss it from hand to hand, rotating the dough in a circular motion, until you reach your desired width.
While the skillet heats in the oven, prepare the spinach and artichoke filling, which stands on its own as a crowd pleasing dip. (You're welcome!) Take care when laying your pizza dough into your skillet as it will be really hot. I used a rubber spatula to help me push up the edges once it was inside the skillet.
Once you've made a skillet pizza, you may never go back!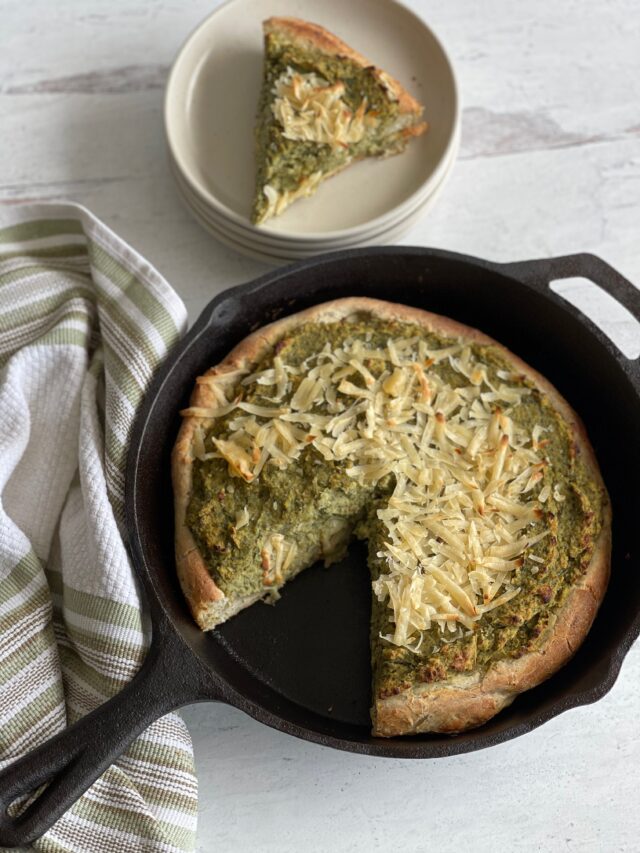 ---
Spinach & Artichoke Skillet Pizza
Prep time: 15 minutes | Cook time: 25 minutes 
Serves 4 to 6
Ingredients:
1 lb homemade or store-bought pizza dough
1 Tbsp olive oil 
4 cloves garlic, thinly sliced
4 cups baby spinach (about 6-oz)
1 14-oz can artichoke hearts in water, drained and chopped
1 14-oz can cannellini beans, drained and rinsed
juice of ½ lemon
¼ cup nutritional yeast
1 ½ tsp garlic powder
1 ½ tsp onion powder
1 tsp sea salt
¼ tsp freshly ground black pepper
1 cup grated vegan Parmesan cheese
Directions:
In a cold oven, place a 10-inch cast iron skillet and preheat the oven to 500°F. Leave in the oven 5-10 minutes after the oven has preheated.

Meanwhile, in another large pan, add the oil. Add the garlic and cook for 2 minutes until fragrant. Stir in the spinach and artichoke hearts. Saute until just wilted. 

In a food processor, add the spinach mixture, beans, lemon juice, nutritional yeast, garlic and onion powders, salt and pepper. Process until smooth.

On a lightly floured surface, roll out and / or stretch the pizza dough into a 10-inch circle.

Carefully remove the skillet from the oven and brush with olive oil. Lay the pizza dough into the hot skillet carefully, pushing it up the sides slightly. Place the skillet in the oven and bake for 2 to 3 minutes, or until the dough sets slightly. 

Remove from the oven and top with the spinach and artichoke dip, spreading to cover evenly (except raised sides). Return to the oven and bake for 10 minutes. 

Remove the skillet from the oven and sprinkle with the grated Parmesan cheese. Return to the oven and bake for 5 more minutes.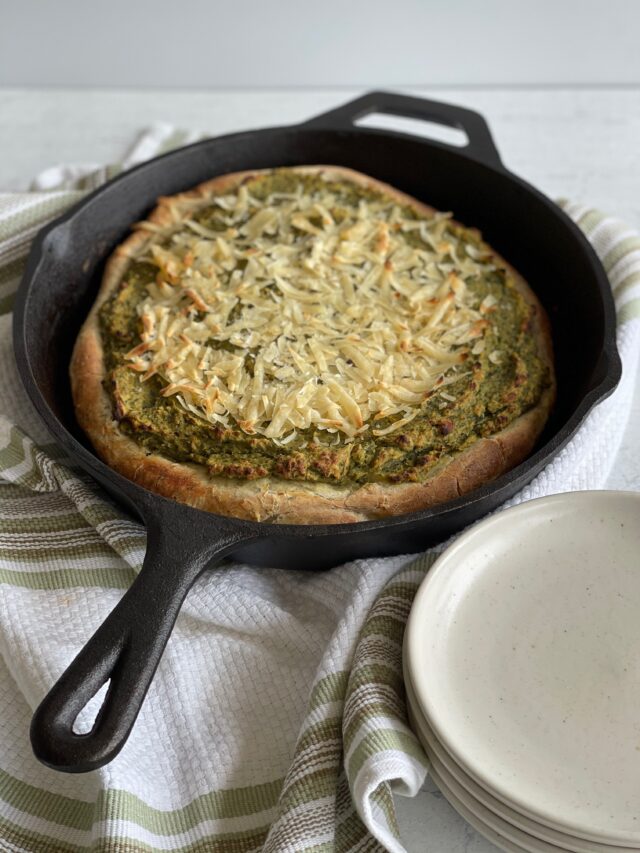 ---