September 20, 2019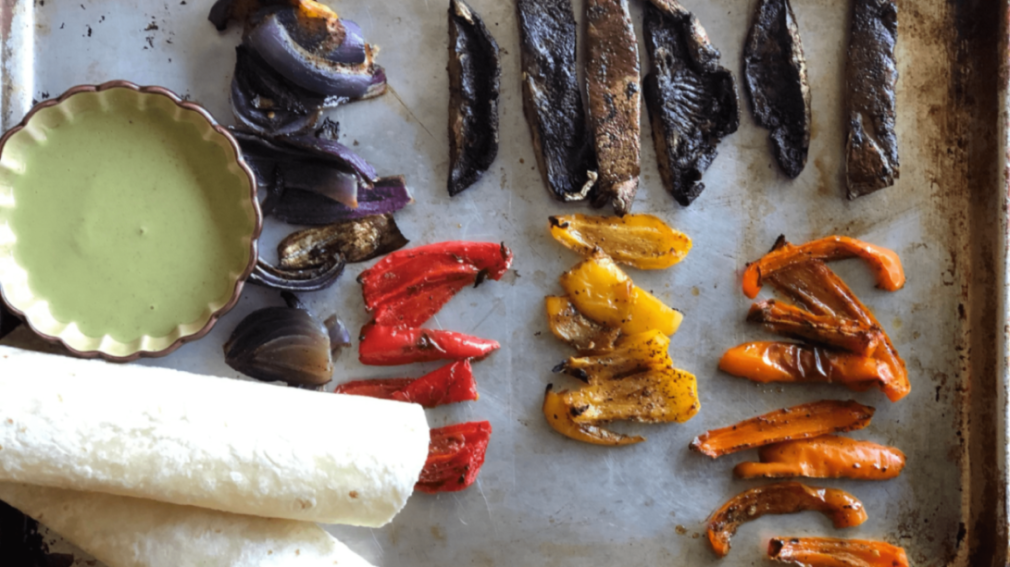 ---
Sheet pan meals are a busy mama's best friend! I love how easy it is to whip up dinner all on ONE PAN (and I'm not gonna lie…I love how easy the clean up is too!)
These fajitas are very versatile…use my veg combo below or roast your family's favorite veggies with your go-to season rub. (I used Penzey's Spices Southwest but they also have a Fajita blend that I love.) You can cook the veggies and tortillas all on one pan (just watch the cooking times for various veggies since some cook quicker than others). I added the tortillas last for just a couple of minutes at the end of the veg cooking time.
I served the fajitas with black beans. (I just spiced up a can of black beans with garlic powder, cumin, and salt on the stove top while the veggies roasted). Top them with guac and salsa and this Creamy Cilantro Pepita Dressing I blended up. I'd love to hear what you think of it.
Vegan Sheet Pan Fajitas with Creamy Cilantro Pepita Dressing
Serves 4
Ingredients:
For the fajitas:
1 red bell pepper, sliced into strips
1 orange bell pepper, sliced into strips
1 yellow bell pepper, sliced into strips
1 red onion, sliced into wedges
2 Portobello mushrooms, sliced into strips
1 1/2 Tbsp olive oil
3 Tbsp of your favorite fajita or taco seasoning
Flour tortillas
Guacamole and salsa, to serve (optional)
For the Creamy Cilantro Pepita Dressing
1/2 cup pepitas
1/4 cup lime juice
1 cup cilantro, tightly packed
1/2 cup olive oil
1/2 cup water
2 Tbsp red wine vinegar
2 Tbsp dairy-free mayo (such as Wildwood Garlic Aioli)
1/2 tsp salt
2 garlic cloves
Directions:
Preheat the oven to 400 degrees.
Spread all of the vegetables on a sheet pan. Add the olive oil and seasoning. Using your fingers, rub the seasoning and olive oil into the vegetables. 
Layout all of the vegetables on the pan (except the mushrooms) so that they aren't overlapping. Roast for 10 minutes and add the mushrooms. Roast another 10 minutes. Add the tortillas (use another sheet pan if you can't make room on the pan) and cook 2-3 minutes.
While the vegetables are roasting, heat a small, dry frying pan. Add the pepitas and cook for 3 minutes until they are toasted (stir or shake the pan every minute or so).
Add the pepitas and remaining dressing ingredients in a blender. Blend until smooth.
---