August 20, 2019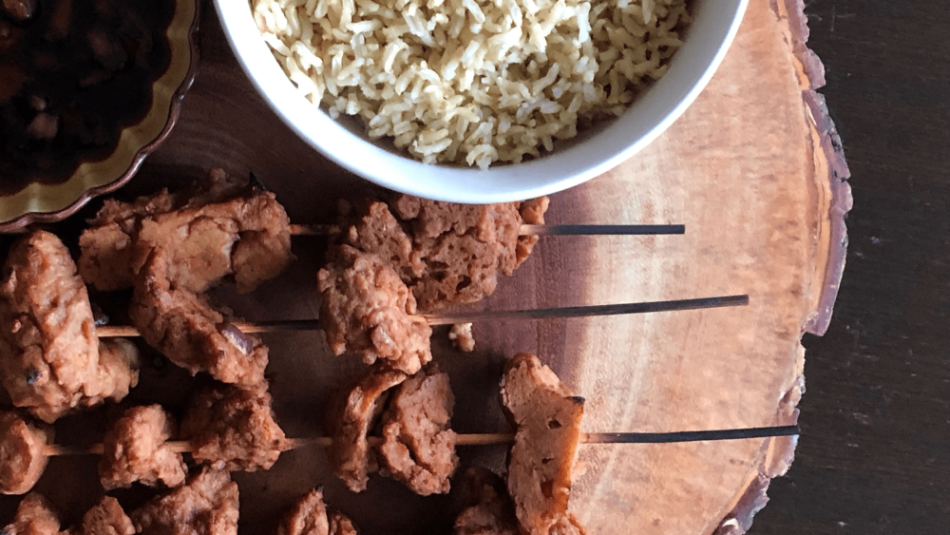 ---
These Teriyaki Seitan Skewers are a throwback to my childhood when my mom made a similar recipe using flank steak. I loved the smell of this marinade as it broiled over the skewers, which my mom lovingly twisted every couple of minutes under the broiler. We ate them over steamed white rice and alongside broccoli.
I've reinvented the recipe with seitan to create these Teriyaki Seitan Skewers that I think are better than what I grew up with (sorry, Mama!). I love it when I can veganize a recipe from my childhood with delicious results! A big bonus for me with this recipe is that my oldest daughter, Gaby, loved them and she's not a seitan fan at all. Now, I just need to figure out a way to get her (and the rest of my kids) to eat tempeh!
This recipe is all in the marinade. It's oil-free and I boil it after to serve alongside the skewers. The longer the seitan marinates, the tastier these Teriyaki Seitan Skewers become! I'd love to hear what you think of them so drop a note in the comments below. I hope your family enjoys them as much as mine did.

Teriyaki Seitan Skewers
Ingredients:
1/2 cup Shoyu (or soy sauce)
1/3 cup red wine vinegar
2 1/2 Tbsp vegan Worcestershire sauce (such as Annie's)
1 cup chopped red onion
3 cloves garlic, minced
1 tsp grated fresh ginger
2 Tbsp maple syrup
24 ounces seitan
10-12 skewers
Directions:
Combine all the ingredients except the seitan in a sealable container or bag (I used my gallon reZip bag).
Cut or break apart the seitan into skewer-like pieces or chunks. Add the seitan to the marinade. Marinate at least 2 hours.
When ready to cook the seitan, soak the skewers in water (if not using metal) and slide the seitan pieces onto the sticks.
Broil for 3 minutes on each side.
Meanwhile, bring the marinade to a boil. Remove from the heat and serve alongside the skewers.
Makes 10-12 skewers.
---