September 21, 2020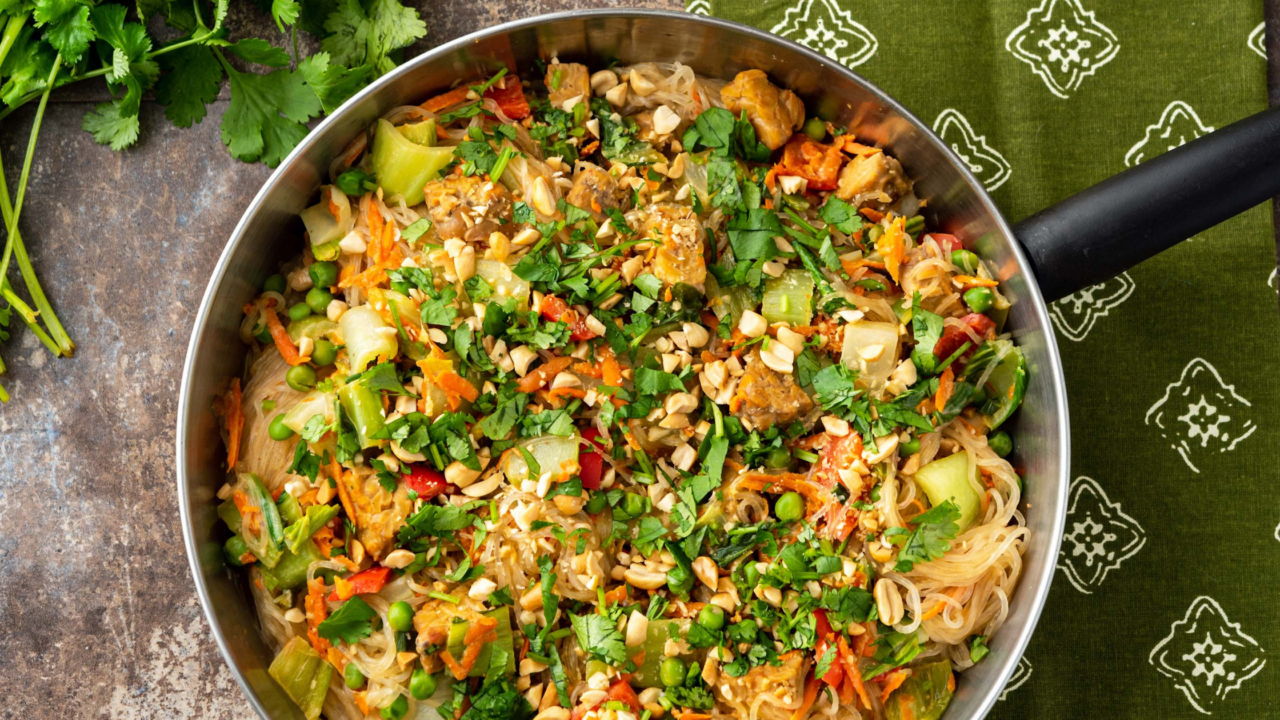 ---
(This post contains affiliate links.)
If I had a dollar for every time someone asked me where I get my protein, I'd be really, really rich! All kidding aside, "Where do you get your protein?" is probably the #1 question I get asked as a vegan. It's also the thing that my well-meaning family and friends worry about most. Thanks to Robin Robertson, I can now hand them her new cookbook, The Plant Protein Revolution Cookbook and let them page through the over 85 mouth-watering recipes that showcase an abundance of plant-based protein, (along with a load of other nutrients and a ton of big, bold flavors).
This recipe for Indonesian Noodles with Tempeh is just one delectable example that offers robust protein that anyone, vegan or not, can enjoy. From snacks and appetizers, to soups, stews, salads, sandwiches and of course, main courses, Robin shatters the annoying myth that you can't get enough protein on a vegan diet. Before sharing her fantastic array of recipes, she dives deep into the many sources of plant protein and how much we really need. This chapter is loaded with great information and a valuable resource for new and experienced vegans alike.
The subsequent chapters are a delicious round up of recipes by category. The "Stovetop Simmers and Skillets" is one of my favorites, including this recipe for Indonesian Noodles with Tempeh, as well as Tofu Ramen Bowls, Edamame Fried Rice and Quinoa and many others that I'll be rotating into my family's weekly meal plans very soon!
I also love the chapters on Protein-Rich Sweets (YUM!) and Plant Protein Basics that includes some general recipes for creating vegan meats, as well as some non dairy sour cream, mayo and cheese. Oh and did I mention there's a whole chapter on breakfast? That chapter alone makes this cookbook worthy of adding to your collection!
Whether you are a vegan wondering where your protein will come from or an omnivore who wants to eat meatless on occasion but needs to know you're getting plenty of protein, you can count on The Plant Protein Revolution Cookbook to deliciously deliver all the recipes you need.
---
Indonesian Noodles with Tempeh
(Recipe reprinted with permission from The Harvard Common Press)
Makes 4 to 6 servings
Also known as bami goreng, these flavorful noodles are a popular dish in Indonesia. Tofu or seitan can be used instead of tempeh, if you prefer. Substitute rice for the noodles and you will have a dish called nasi goreng.
Ingredients:
8 ounces (225 g) rice vermicelli (or use cooked ramen or cooked spaghetti)
2 tablespoons (30 ml) water, or 1 tablespoon (15 ml) avocado oil
8 ounces (225 g) Braised Tempeh (page 167), cut into 1/2-inch [1 cm] dice
1/3 cup (70 ml) tamari
1/2 cup (130 g) creamy natural peanut butter
2/3 cup (140 ml) low-fat unsweetened coconut milk
2 tablespoons (30 ml) fresh lemon juice
1 to 2 teaspoons sambal oelek or other Asian chili paste (depending on how spicy you want it)
1 teaspoon natural sugar
11/4 cups (295 ml) water
1 red bell pepper, seeded and chopped
6 cups (420 g) chopped bok choy
1 large carrot, shredded
1/2 cup (50 g) chopped scallions, white and green parts
3 garlic cloves
1 tablespoon (8 g) grated fresh ginger
1 cup (134 g) frozen peas, thawed
1/4 cup (35 g) chopped unsalted dry roasted peanuts
2 tablespoons (8 g) minced fresh cilantro
Directions:
1. Soak the rice vermicelli in hot water until softened, about 5 minutes. Drain well, rinse, and set aside.
2. Heat the water in a large skillet or wok over medium high heat. Add the tempeh and 1 tablespoon (15 ml) of the tamari and cook until the tempeh is browned on all sides. Remove the tempeh from the skillet and set aside.
3. In a food processor, combine the peanut butter, coconut milk, lemon juice, sambal oelek, sugar, and the remaining 4 tablespoons plus 1 teaspoon (64 ml) tamari. Add 1 cup (235 ml) of the water and process until smooth, then set aside.
4. Heat the remaining 1/4 cup (60 ml) of water in a large skillet or wok over medium-high heat. Add the bell pepper, bok choy, carrot, scallions, garlic, and ginger and cook, stirring occasionally until softened, about 10 minutes.
5. Reduce the heat to low and stir in the peas and the reserved tempeh. Add the reserved noodles, stir in the sauce, and simmer until the noodles are hot and well coated with the sauce. Serve garnished with peanuts and cilantro.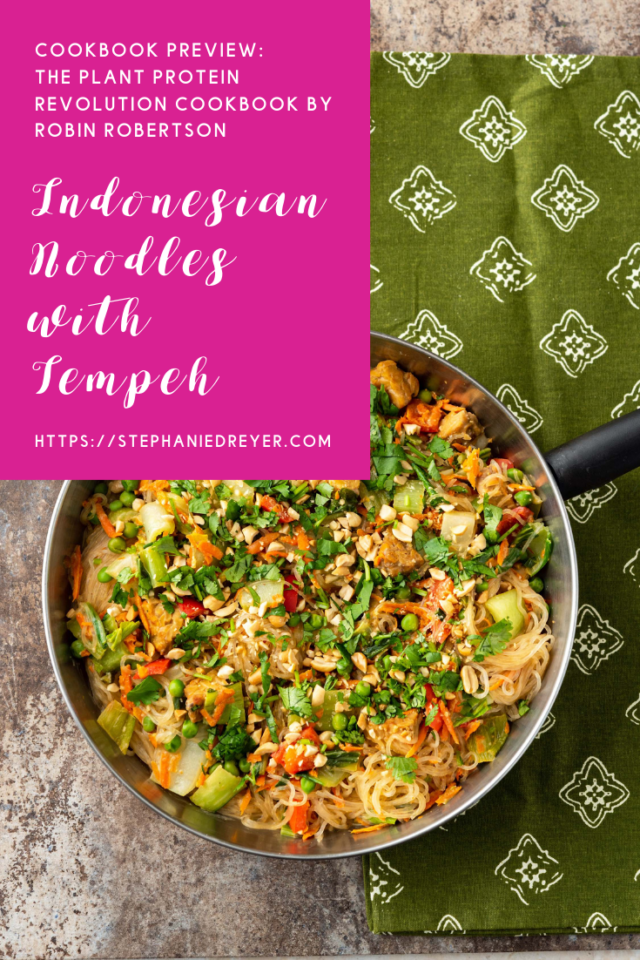 ---