MY 4-STEP PROCESS FOR CREATING A WEEKLY MEAL PLAN FOR MY FAMILY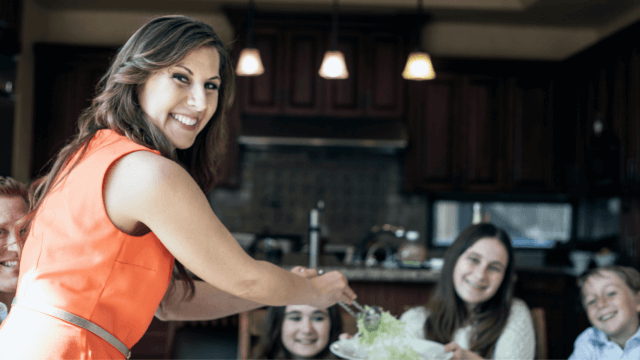 This is going to sound really nerdy, but I love to plan. Seriously. Give me a schedule and an organizer, and I am one happy mama. I fall into the "Type A" category of mom where I have a color assigned in my planner for every family member, work, and school activity. I thrive on lists and rely on them (actually, delight in them) to make my life run. So, today's topic gets me excited because I want to share how I create my family's weekly meal plan.
After some very kind and unexpected comments from friends who happened to glance at my family's weekly menu up on my counter every now and again, it occurred to me that not everyone plans meals ahead of time. As a mom of three who loves to cook, I had to wrap my head around that one. "But how do you know what to cook each day? Don't you have to go to the grocery story a lot?" I asked my friends these questions who laughed, and asked me more about how I come up with my family's weekly meal plan.
I am breaking mine down for you today. This is the step-by-step process I follow each week when making my family's weekly plan.
But first…before I get started, I do these a couple of things:
Print my weekly Batch Cooking Planner: I use this blank template every week.
Do a kitchen inventory: I review my pantry, fridge and freezer and take note of any abundant leftover ingredients that need using up.
Once I've wrapped those things, it's time to plan!
1. Review my family's schedule for the week.
I create my family's menu (and shopping list at the same time!) every Thursday night (because I go to the store once a week on Fridays). Before I plot out the meals and recipes I want to make for the week, I flip open my Erin Condren Life Planner (I couldn't live without it!) and get a lay of the land for the week. Is the family out any night? Are there any evenings where carpools are crazier than usual and I'll have to prep the meal ahead of time? Which day of the week would make sense for leftovers? I also note any snack sign-ups or potluck items I am schedule to bring for any events.
2. Map out our meals on the Batch Cooking Planner.
Next, I jot down meal ideas and any notes about the meal that I discovered from going through step 1 (e.g. Hubby won't be home that night for dinner, or need to eat 6P for carpool, etc.). I'll also include meal prep notes and reminders, such as "defrost veggie burgers in the morning."
3. Plug in recipes.
After I know what the week has in store for Team Dreyer, and I've plotted out a skeleton for the week's meals, I open up my recipe library (a combination of bookmarked cookbooks, saved Instagram recipes, various Pinterest pins and magazine tear sheets ) and narrow down what I want to cook. I also refer to my family's favorites list so I don't have to reinvent the wheel each week.
As I fill in the recipes for each meal, I include the recipe source (and page number, if applicable). While I add recipes, I also create my shopping list. It's easy since I have all the ingredients for every meal in front of me and after just doing a kitchen inventory, everything I need is top of mind.
4. Plan my batch cooking session for the weekend.
Batch cooking means you prepare meals or recipe components ahead of time to eat later in the week. In a perfect batch cooking world, you would meal plan and prepare your grocery list together once during the week (for example, on Thursday), grocery shop once on another day (for example, Friday) and reserve time on Saturday or Sunday to batch cook.
When creating my meal plan for the week, I identify which ingredients I'll batch from my recipes and schedule a time on Sunday to cook them. By prepping dressings, sauces, vegetables, snacks and grains ahead of time, meal preparation during the week is streamlined and effortless. (You can also prepare complete meals during your batch sessions and store them to eat at another time.) Not every meal can be batch cooked and you don't need to cook all your food for the week ahead of time. Instead of cooking everything for the week, I sync my schedule (Step 1) to use my batch cooking to help me where I need it most during the week. 
That could mean preparing a couple of things for lunches, a batch of muffins to eat for breakfasts throughout the week and 2 dinners…or it could mean 4 dinners for the week. I typically select about 5 recipes to prepare and these could include full meals such as soups, stews or pasta casseroles, or ingredients such as roasted vegetables, sauces, dressings, or marinated proteins. (Want to some help getting started with batch cooking? Check out my weekly meal prep membership, Batch Cooking Club.)
There you have it: my 4-step process for planning my family's weekly meal plan! Tell me below what your biggest challenge is each week in creating your own family meal plan.