It's the perfect time of year for a spring picnic. Basking in the sun with some delicious food is my kind of weekend afternoon. Although any standard basket would do, I am currently working on my new picture book, NOT A PURSE,  (the sequel to NOT A NUGGET), and have handbags on my mind!! So, today, I am breaking out my GUNAS Kangaroo Saffiano in earthy dark green and filling it with all the yummies for my Spring picnic menu below.
This bag works nicely as a "picnic basket," with an internal zipper pocket, as well as a zipper divider pocket, (great for storing utensils and napkins.) I was able to fit a picnic blanket and all the food in the bag nicely. It looked so cute packed up that I almost didn't want to lay out the spread! I have to admit, I felt very chic and stylish with my fashion-forward picnic tote. It definitely won't be the last time I break it out for a feast in the park. If you love the idea, get one for yourself here.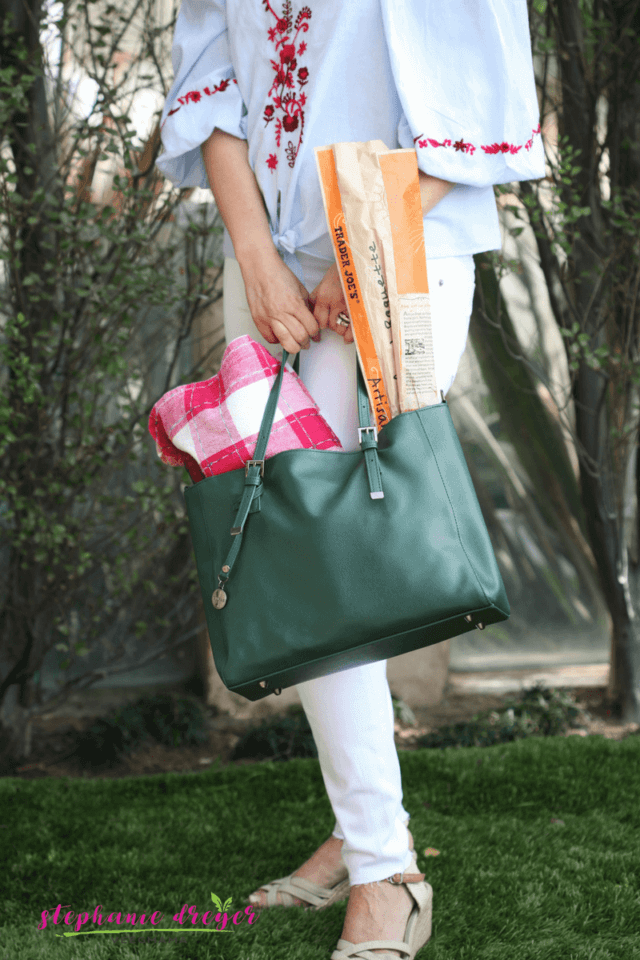 As for the menu, I love lots of finger foods and appetizers for a Spring picnic to create a whole experience that can sustain appetites for several hours. One of my dream days is to get lost in a book under a tree on a picnic blanket. I can't remember the last time I did that. This menu includes several munchies and easy-to-eat food that can sit out at room temperature for a bit and still taste delicious.
Stephanie's Spring Picnic Menu
Chopped Vegetable Salad
Slice 2 Persian cucumbers into rounds, 1 cup of cherry tomatoes in half, and 1 watermelon radish into semi-circles (or use a regular radish). Chop 1 head of romaine and toss with the rest of the veggies. Squeeze the juice of 1 lemon on top along with Chile Lime Salt (I get mine at Trader Joe's) to taste. Top with chopped avocado.
I love this tempeh "chicken" salad filling! It's great on sandwiches, on top of a bed of greens or scooped up in endive!
Beanfields White Bean Chips and Roasted Garlic Lemon Hummus
Combine 1 can chickpeas, 1 head roasted garlic, 1/4 cup vegetable broth and the juice of 1 lemon in a food processor. Blend until smooth. Add salt and pepper to taste.
Vegan Chocolate Chip Cookies
I love Uncle Eddies or any of the vegan ones from Trader Joe's.
What do you think of my Spring picnic menu and basket? What do you love to pack for a picnic?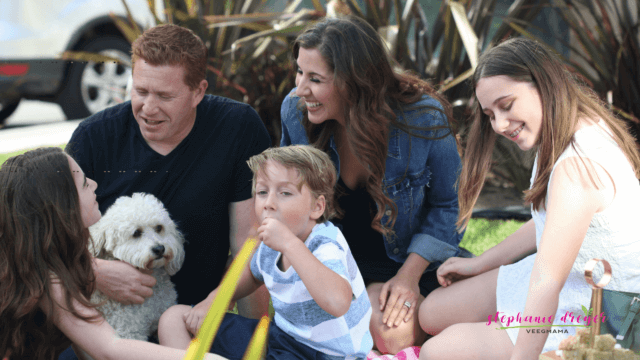 I received a discount to purchase a GUNAS handbag for this post, but all opinions are my own.