My family went crazy for this easy pasta bar that I put together last week! I received countless "Mom, this is really good!" enthusiastic compliments from the kids about how much they loved dinner…and all I did was heat up a few sauces from Trader Joe's, boil some pasta, and chop up some veggies. That's it! Easy, healthy, and kid approved. That's what I call dinner success!
This easy pasta bar is one of my weeknight solutions to serving a healthy, homemade dinner five nights a week. Over the years, I've introduced several changes to my family's meal plans, but food bars are one my favorites. They are fun, interactive, and customizable for picky eaters and family members with different likes and dislikes.
This meal idea came together even easier with store-bought sauces from Trader Joe's. My daughter, Alex, loves pesto while my son Jake prefers Miyoko's butter and my eldest, Gaby loves bruschetta. This pasta bar made it possible to please all 3 of them with one meal. Score 1 for me!
When it comes to putting together your own pasta bar, keep the following tips in mind.
DIY Pasta Bar Tips
Presentation is everything: Kids eat with their eyes so lay everything out on a pretty platter. Make a spread that is inviting and fun. Since you're using store-bought ingredients, you can spend a few extra minutes on setting up your spread!
Variety is the spice of life: Include lots of color and variety in your pasta and toppings options.
Less is more: Variety is great but you don't have to go crazy. Too many options can overwhelm kids so stick to no more than 3 sauces and 5 add-ins for your pasta bar.
Round out the menu: A simple salad and sliced ciabatta are winning sides to accompany your meal.
The key to this pasta bar is incorporating your family's favorites. Create your own with these three simple steps.
Easy Pasta Bar in 1-2-3!
1. Select your sauces.
I mentioned above that I catered to my kids' faves. I used the following Trader Joe's sauces:
Vegan Kale, Cashew & Basil Pesto (in the refrigerated section)
Trader Giotto's Fresh Bruschetta Sauce (in the refrigerated section)
Trader Giotto's Genova Pesto (in the refrigerated section)
(Although Jake loves plain butter on his noodles, he tried the bruschetta and loved it. I reinforced how great it was that he tried something new and discovered he liked it.)

2. Prep your noodles.
I did a combo of zoodles (zucchini noodles) and traditional pasta. Although Dave and I were the only ones who ate the zucchini, I always offer and keep reintroducing it (the key to winning over picky palates).
My kids' favorite noodles are penne and farfalle (aka bowties in our house). I also love all the fun twists and spirals that Trader Joe's offers in their pasta aisle. I could have included 5 different kinds of pasta in our bar!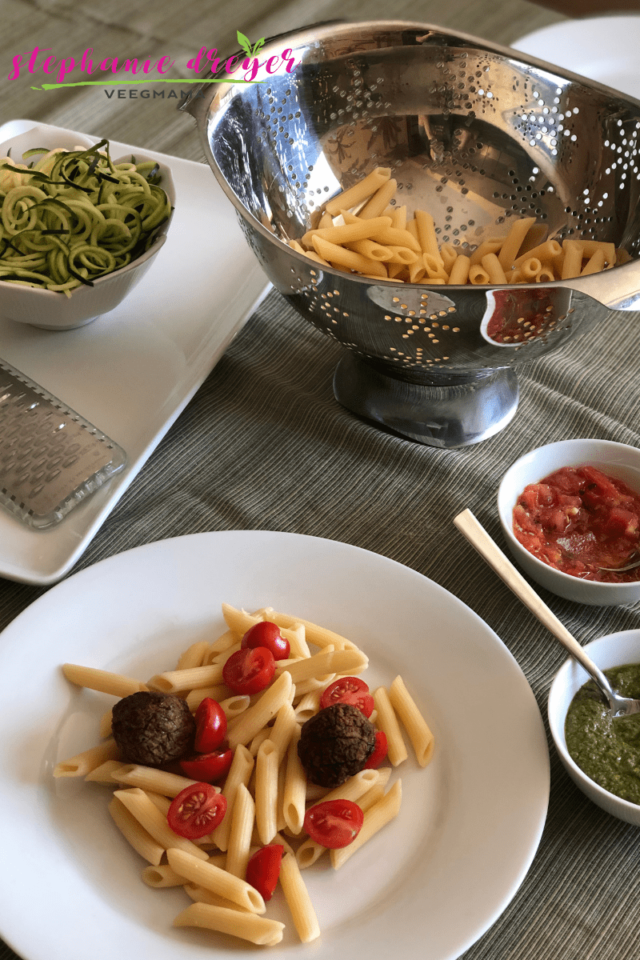 3. Choose your toppings.
I kept it simple with sliced cherry tomatoes, olives, and Gardein meatless meatballs. I also included turkey meatballs for Alex, Jake and Dave.
This is where you can have a lot of fun with your pasta bar: sun-dried tomatoes, capers, roasted vegetables, chickpeas, marinated artichoke hearts, hearts of palm…go to town!
And don't forget the Parm! Violife is my favorite dairy-free brand. I love that you can grate it like traditional Parmesan cheese. You can find it at Whole Foods. Follow Your Heart also makes a great grated product.
With all the options to choose from, you can change up this pasta bar a dozen different ways to refresh this meal idea again and again. It's definitely going into the my meal plan rotation!
I'd love to hear what you think of this meal idea. Tell me in the comments below and for more plant-based meal ideas, check out my 21-day online course for meal plan ideas and recipes.