Thanksgiving is one of my favorite holidays. Ever since I was a kid, I loved the "production" of it all: the special occasion dresses my twin sister and I were given to wear; the beautiful, huge table decorated to the nines; and of course, the food. So. Much. Food. And it wasn't just the eating of the food that day. It was the days of prep before. My mom's homemade pies were an event in themselves. I couldn't wait until I was an adult and could host Thanksgiving for my family.
With three sets of parents to rotate amongst each year, I haven't had the opportunity to host my own Thanksgiving but I typically make almost the entire meal (if not all of it) every year. Part of it is my type A, need to control the menu personality. (Yes, guilty as charged.) Plus, I love to cook. It wouldn't feel like a holiday to me if I wasn't in my happy place, cooking in the kitchen with Maroon 5 playing in the background and a glass of wine alongside me. I truly get so much joy from preparing all the dishes I contribute to the festive meal. However, there's another part: I have a non vegan family. Not just in my immediate family, but also in my extended family.
So, I take charge of the menu and make sure that there is lots of food for me (and my vegetarian daughter, Gaby) to eat. So, what does this vegan feed her non vegan family for Thanksgiving?
The Main Affair
Since we always have Thanksgiving at a non vegan household, someone else always makes a turkey. (Side note: Team Dreyer adopts a turkey each year from Farm Sanctuary. This year, we adopted Spunky. You can adopt one too here.) I have served a couple of different vegan options for me and Gaby over the years. (This will be her third Thanksgiving as a vegetarian. She made that choice on her own, without any pressure from moi and I'm so proud of her.) There are three un-turkeys that you can't go wrong with: The FieldRoast Celebration Roast, a Tofurky, or Trader Joe's Turkey-less Stuffed Roast. I make my own gravy (and stuffing) and it's heaven.
I have also served Gardein's Turkey Cutlets with my gravy and they hit the spot. Gardein also has a Savory Stuffed Turk'y and Holiday Roast that I have never tried. Lots to choose from!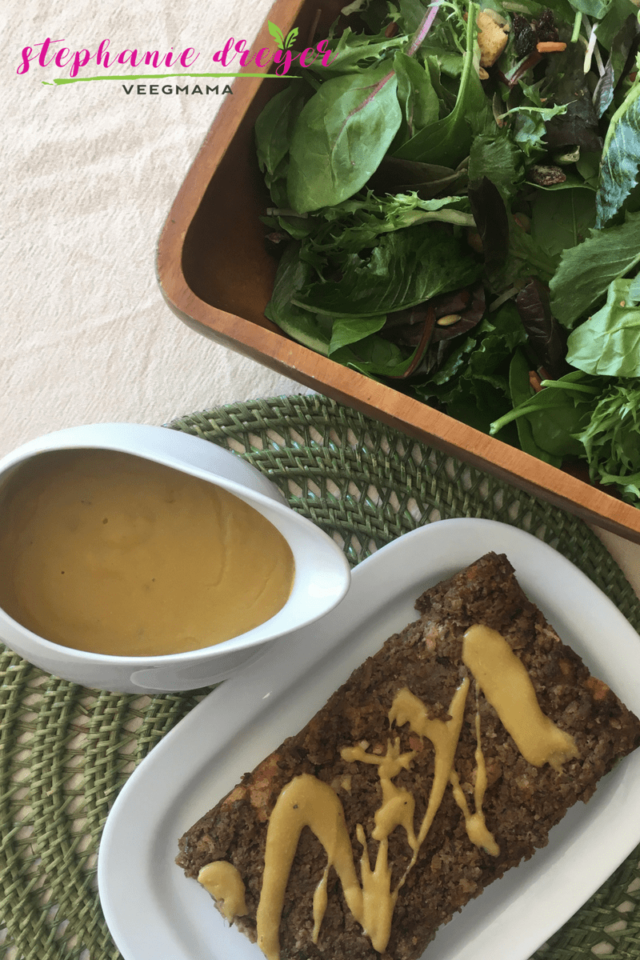 Some other options include my Sourdough Stuffing Vegan Meatloaf and Three Layer Vegan Holiday Meatloaf, both featuring Beyond Meat. These are hit with non vegans too and they feature some of the sides also on the Thanksgiving Table.
The Sides
Mashed Potatoes
What's Thanksgiving without mashed potatoes? My recipe is free of dairy but full of flavor and my non vegan family enjoys them just as much!

Stuffing
My mom made a traditional stuffing with celery, carrot, onions and raisins my whole life. Now that I get to make what I want, I go sourdough all the way and I ditched the raisins. This. Is. So. Good.
I have changed it up in the past and made a vegan cornbread and used Lightlife's Fakin' Bacon for a vegan bacon cornbread stuffing that was amazing, if I do say so myself!
Mac 'n Cheese
I added this side to my table last year. I think my craving came about as an excuse to eat all of the gluttonous foods I deprive myself of the rest of the year! Because I was cooking so many other things, I went with Daiya's box mix and it was amazing!
This year, I'm making this recipe from Pamela Salzman. I'm making it my own by adding a mixture of nutritional yeast and Panko breadcrumb on top.
The Veg
Everyone has their favorites, but my family seems to gravitate to Brussels sprouts and green beans.
Brussels Sprouts
My husband always wants Brussels sprouts. My daughter, Alex loves this salad so I can please both of them with this one dish!
Sometimes, I'll purchase the shredded Brussels sprouts from Trader Joes, toss them with a lemon-dijon mustard vinaigrette and top with avocado.
Another easy and flavorful way to serve them: Halve Brussels and spread on a baking sheet. Toss with balsamic vinegar, olive oil, salt and pepper. Roast at 35o degrees for about 30 minutes. Remove from the pan and place in a serving bowl with pomegranate seeds and roasted hazelnuts.

Green Beans
My easy, go-to recipe for green beans is to blanch them for 3 minutes and then transfer them to a saute pan with several tablespoons of Earth Balance butter and thinly sliced garlic. Season with salt and pepper. Done and delicious!
This year, I'm making a Winter Chopped Salad: greens, fennel, beets, celery, walnuts and Kite Hill almond ricotta cheese. If it's a hit, I'll post it on my website! 🙂
Rolls
Maybe we should call Thanksgiving "Carbsgiving"! I keep things simple with the crescent rolls from Trader Joe's. They are delicious as is, with just a touch of Miyoko's European Style Butter or Earth Balance, but I get a little fancy for Thanksgiving. I roll each piece of dough into rosettes and place them together on a cookie sheet before brushing them with melted Earth Balance. Once they are baked, you have a beautiful presentation that everyone can just pull apart and eat.
The Pies
I'm not a baker. But, I challenge myself for Thanksgiving. I was never a fan of pumpkin pie but this Pumpkin Cheesecake with a Hint of Chocolate by Nava Atlas is EVERYTHING. I've made it every year for at least the last 5 years. I use a frozen vegan pie crust from Whole Foods to simplify things.
For other pie options, check out my Pies Pinterest board.
I top both of them with So Delicious Coco Whip. It's kind of a must.
That's what I feed my non vegan family for Thanksgiving! And although I'm all about the food, I look forward most to the moments when we are all around the table together sharing what we are most grateful for each year (but it wouldn't be possible without all that great food – hahaha).
Happy Thanksgiving from my family to yours!