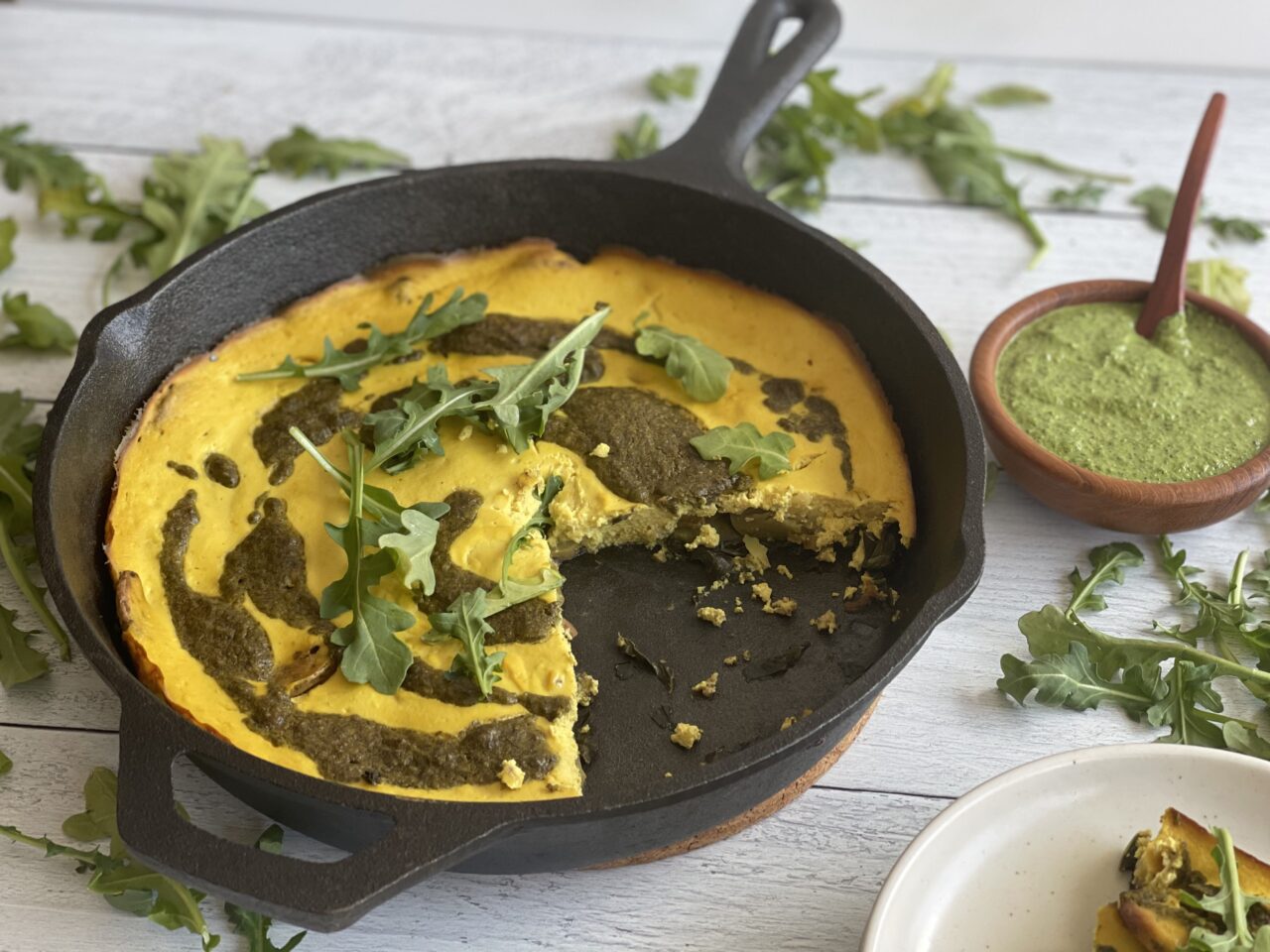 (This post is sponsored. I received compensation to write this post but all opinions and ideas are mine alone.)
I can't get enough of one-pan meals with my 10″ Skillet from Karibe. Just one pan to cook AND clean! This week, I experimented with a Pesto & Potato Vegan Frittata. With Spring upon us, I'm all about the pesto and it's the perfect drizzle on this vegan frittata. I also coated the potatoes and roasted them with a bit of the pesto to seal in even more lemony herb flavor.
From the oven to table, this vegan frittata makes a beautiful centerpiece for a Sunday brunch, and could even be shared as part of a Spring celebration. Of course, you can also serve it easily during the week for a refreshing twist on breakfast for dinner. Batch cook the pesto on the weekend to speed up your weeknight dinner prep. Enjoy!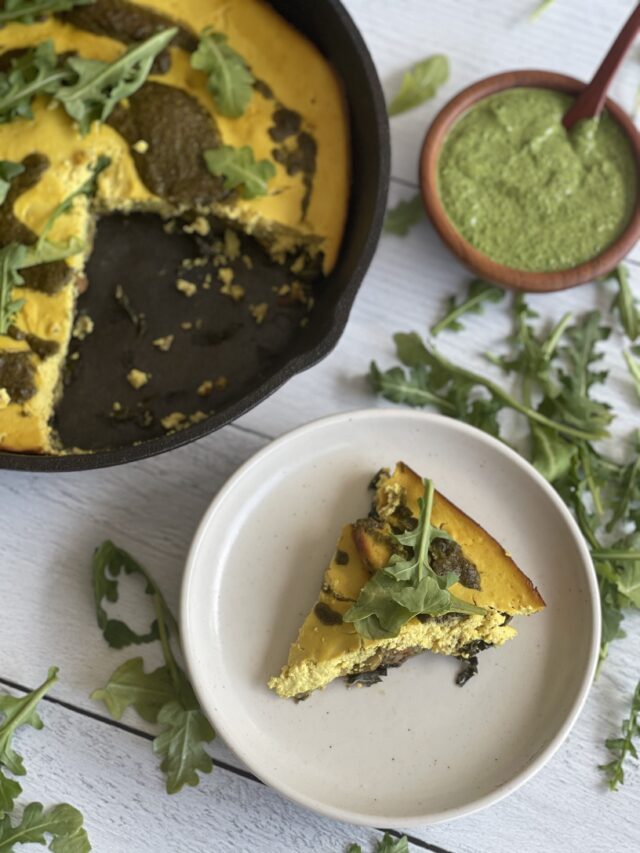 ---
Pesto & Potato Vegan Frittata
Prep time: 30 minutes | Cook time: 30 minutes 
Serves 4 to 6
Ingredients:
4 cups tightly packed fresh arugula
¼ cup walnuts 
6 large cloves garlic, divided
juice of 1 1/2 lemons divided
½ cup nutritional yeast, divided
½ tsp sea salt, divided (plus more to taste)
¼ cup + 1 Tbsp olive oil, divided
1 cup baby Dutch yellow potatoes (about 4-6), sliced in half
1 head lacinato kale, ribs removed and thinly sliced
1 14-oz package firm tofu
½ cup vegetable broth
¼ tsp turmeric
½ tsp garlic powder
zest of 1 lemon
Directions:
Preheat the oven to 400°F.

Add the arugula, walnuts, 4 garlic cloves, juice of 1 lemon, ¼ cup nutritional yeast and ¼ teaspoon of salt to a food processor. Mix on high until a loose paste forms.

Stream ¼ cup of olive oil into the processor a little at a time while the machine is running. Taste and adjust the flavor as needed, adding more salt, nutritional yeast or lemon juice.

On a baking sheet lined with parchment paper or a silpat mat, toss the potatoes with 2 Tbsp of the pesto. Spread the potatoes out in a single layer and bake for 10 minutes.

Meanwhile, in a cast iron skillet, add 1 tablespoon of olive oil and the remaining 2 cloves of garlic. Saute for 3 minutes and add the kale and a pinch of salt. Cook for 2 minutes until slightly wilted. Remove from the heat and set aside.

In a food processor, combine the tofu, vegetable broth, the remaining ¼ cup of nutritional yeast, turmeric, garlic powder, juice of half a lemon, zest and ¼ teaspoon of salt. Puree until smooth. 

Reduce the oven to 350°F. Layer the potatoes in a single layer on top of the kale. Pour the frittata batter over the vegetables. Drizzle 2 tablespoons of the pesto on top and bake for 30 to 40 minutes until cooked through and golden at the edges.

Remove the skillet from the oven and cut into wedges. Serve with the remaining pesto.