Sun-Dried Tomato and Spinach Gardein Croquettes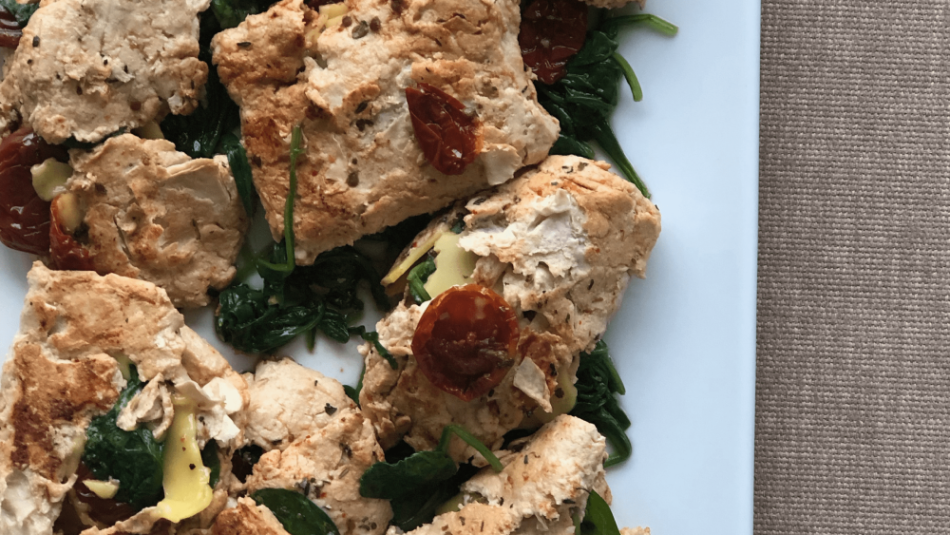 In my pre-vegan days, stuffed chicken breasts were one of my "go to's" for a special dinner. I had mastered the art of creating a pocket in the breast, just large enough to stuff with sun-dried tomatoes, cheese or whatever else I was experimenting with for that meal. I may not eat chicken anymore but I still love the idea of a "pocket of surprise" inside my dinner entree! 
Gardein makes a Chik'n Scallopini that has become my chicken replacement when I want a traditional breast. The Scallopini isn't thick enough to make a pocket inside but it's thin enough to stack with something yummy and roll into a croquette (basically just a food roll that's fried)! And that's how I came upon this recipe that I prepared recently for Friday night Shabbat. Although I cook dinner every night, I like to do something a little extra on Friday nights and these Sun-Dried Tomato and Spinach Gardein Croquettes are just that. 
They look and sound fancy but they are surprisingly simple. I layered each Scallopini with a half slice of Violife Provolone (Kite Hill Ricotta would be equally delicious), a few baby spinach leaves and a couple of sun-dried tomatoes. Other options could include: olive tapenade, Kite Hill chive cream cheese, any of Miyoko's cheeses, artichoke hearts…you get the idea. Have fun stacking and rolling!
You need to let the Scallopini defrost for about 20 minutes so it's soft enough to flatten out and roll. But be careful to not let it thaw so much that the Gardein falls apart. I hope you enjoy these. Let me know what you think below.
Sun-Dried Tomato and Spinach Gardein Croquettes 
Makes 4 croquettes
Ingredients:
1 package of Gardein Chik'n Scallopini (4 pieces)
2 slices Violife Provolone, sliced in half
8 cups baby spinach 
8-12 sun-dried tomatoes
1 Tbsp Italian seasoning
Salt and pepper, to taste
4 toothpicks
4 garlic cloves, minced
2 Tbsp olive oil, divided
Directions:
Thaw the Garden Scallopini for about 20 minutes until softened but still firm enough to handle without breaking.
Layer each Scallopini with a cheese slice, then a few spinach leaves, followed by 2-3 sun-dried tomatoes. 
Sprinkle with the Italian seasoning and season with salt and pepper, to taste.
Roll each Scallopini and secure the middle with a toothpick.
Heat the oil in a large saute pan. Add the croquettes and cook about 10 minutes, rotating to brown on all sides.
Remove the Scallopini and add the remaining tablespoon of olive oil and the garlic. Cook 2 minutes until the garlic is browned. Add the remaining spinach and saute just until wilted.
Spread the cooked spinach on a serving platter and place the croquettes on top. Serve immediately.