Vegan BLT Avocados with Mustard Vinaigrette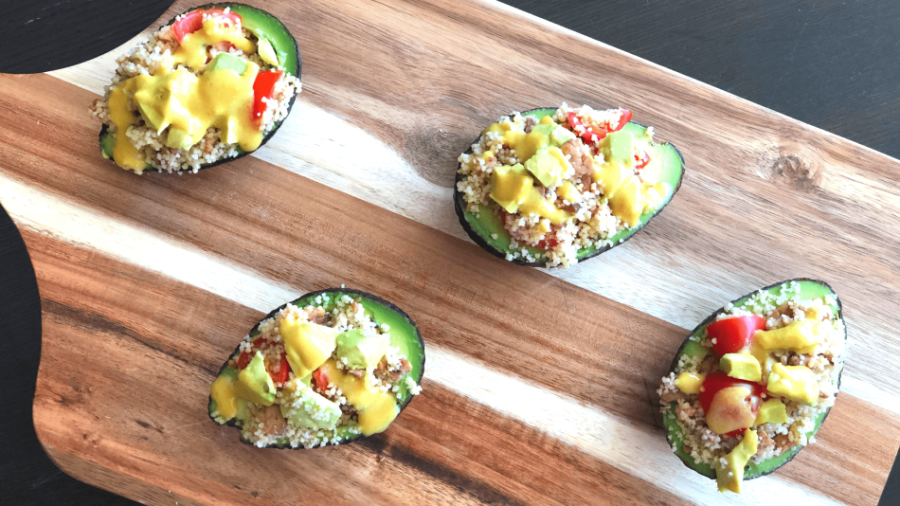 What's better than a vegan BLT? How about BLT Avocados? These stuffed avocados are inspired by my love for the all the flavors in a traditional BLT: smoky tempeh bacon (Lightlife is my go to brand), juicy tomato, crunchy lettuce, creamy avocado, and tangy mustard. 
Stuffed avocados are one of my favorites. I mean, c'mon! Stuffed – avocado! I worship the avocado and could easily eat one a day (I actually did at one time in my life!) so turn it into a meal with a savory stuffing and I'm in!
These BLT Avocados are simple to make and are delicious alongside a big green salad or cup of soup. I added quinoa to the "stuffing" to make these stuffed avos even heartier. Check out the recipe below and let me know what you think.
BLT Avocados
Ingredients:
For the Avocados:
1/4 cup quinoa
1/2 cup water
2 cups romaine
6 ounces tempeh bacon
1/2 cup cherry tomatoes
4 large avocados
For the Mustard Vinaigrette:
2 Tbsp mustard
1 Tbsp red wine vinegar
2 Tbsp lemon juice
1 Tbsp grapeseed (or olive) oil
Directions:
Combine the quinoa and water in a pot and bring to a boil. Cover, reduce to a simmer and cook for 10 minutes until quinoa is cooked through. Set aside to cool.
While the quinoa cooks, finely chop the lettuce and bacon, and quarter the tomatoes. Add everything to the quinoa and stir to combine.
Slice the avocados in half and remove the pits.
Whisk together all of the vinaigrette ingredients.
Using a spoon, slightly hollow out each avocado half by scooping around the sides and middle of it. You want to create enough space for the filling to be able to sit inside. Chop the scooped out avocado flesh and reserve.
Spoon the filling into each of the avocado halves. Top with the reserved chopped avocado and drizzle the vinaigrette on top.