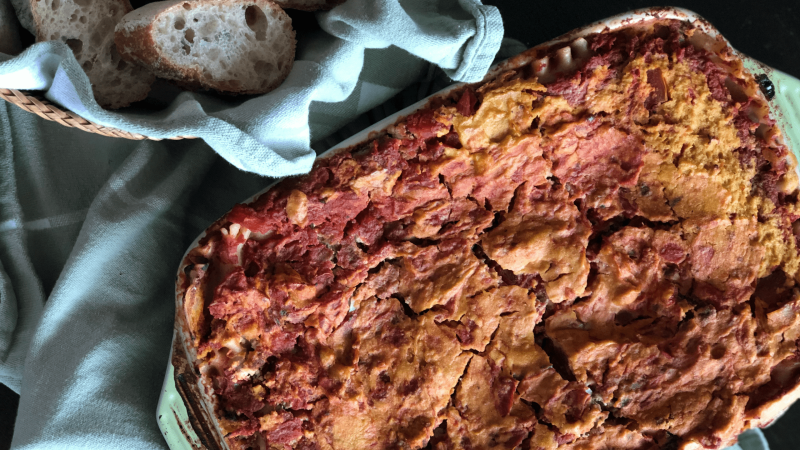 I served this vegan beef lasagna at a family event recently. Everyone LOVED it. Even the kids! Just goes to show that you don't need meat or dairy to create a delicious lasagna. 🙂 
I used gluten-free noodles because I'm lazy and hate boiling noodles (and with DeBole's, you don't have to boil them!). I also used Kite Hill Ricotta for the filling – a must for this recipe, in my opinion. For the vegan "beef", I used the Trader Joe's meatless "ground beef." I have also used Beyond Meat's Beefy Crumbles with equally delicious results!
Vegan Beef Lasagna
Serves 12-16
Ingredients:
1 package no-boil lasagna noodles
2 28-ounce cans marinara sauce
For the filling:
1 package meatless ground "beef"
1 package Kite Hill Ricotta
1 onion, chopped
4 cloves garlic, minced
1 tablespoon olive oil
2 tablespoons Italian herbs seasoning blend
Salt and pepper, to taste
For the sauce:
2 cups cashews
2 cups vegetable broth
3 garlic cloves
1 tablespoon apple cider vinegar
1 teaspoon salt
1/4 nutritional yeast
Juice of 1 lemon
Directions:
Heat the oil in a saute pan. Add the garlic and onion. Cook until translucent. Stir in the vegan beef and seasonings.
Add in the ricotta, crumbling it into the pan. Season with salt and pepper, to taste, Remove from the heat.
Place all the ingredients for the sauce into a high-speed blender and mix until smooth and thoroughly combined.
Pour 1/4 cup of sauce across the bottom of a lasagna pan or casserole dish. Spread it to cover the bottom surface of the pan thoroughly.
Place 3-4 lasagna noodles on top of the sauce to cover as much surface of the pan as possible.
Spread 1/3 of the filling on top of the noodles and top with 1/3 of the remaining marinara sauce and 1 cup of the cream sauce.
Repeat two more times so that there are three layers of noodles, finishing with the cream sauce on top.
Cover with foil and bake at 400 degrees for 50 minutes. Remove the foil and bake another 10 minutes. Allow to rest for 15 minutes before serving.