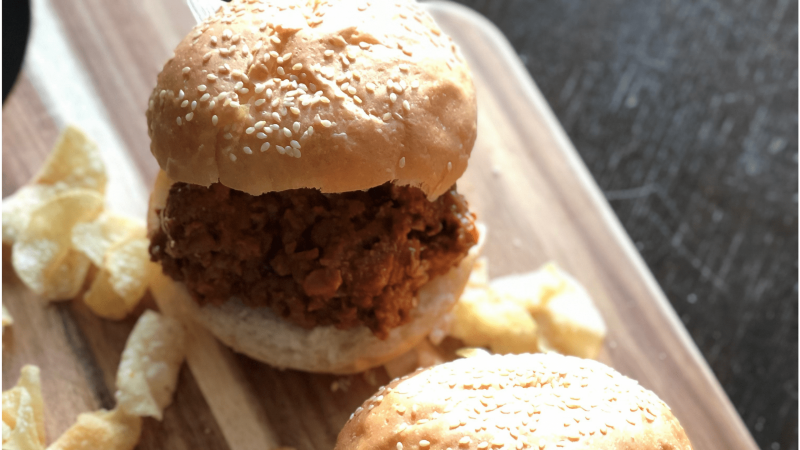 Can you believe I never made a Sloppy Joe until last month when I was experimenting with Beyond Meat's Beyond Burger?
My kids loved them. In fact, Jake loved them so much that he told me he'd eat a Beyond Burger the next time we made hamburgers. I've been trying to get Jake to replace his hamburger with a Beyond Burger forever.
He finally did after these Sloppy Joes and I'm grinning ear to ear. Major vegan mama win!
My favorite part of these burgers was the vegan brioche bun (that I purchased from Milk and Eggs. (Use this link at get 20% off your order.)
Vegan Sloppy Joes
Serves 4
Ingredients:
1 tablespoon olive oil

½ cup onion, chopped

2 packages Beyond Meat Beyond Burger

2 cups baked beans

½ cup BBQ sauce
For serving:
4 vegan hamburger buns

BBQ sauce
Directions:
Heat 1 tablespoon of oil in a saute pan and add the onion. Cook until golden brown.

Crumble the Beyond Meat Beyond Burger in the pan. Continue cooking for about 5 minutes until the "meat" is brown.

Stir in 2 cups of vegetarian baked beans. Continue cooking 5-7 minutes until heated through.

Add in the BBQ sauce and stir to combine. Taste and add more sauce as desired.

To serve, slice the hamburger buns in half and spread BBQ sauce on each slice. Top with a heaping ladle of Sloppy Joe filling.