Tofu Vegetable Fried Rice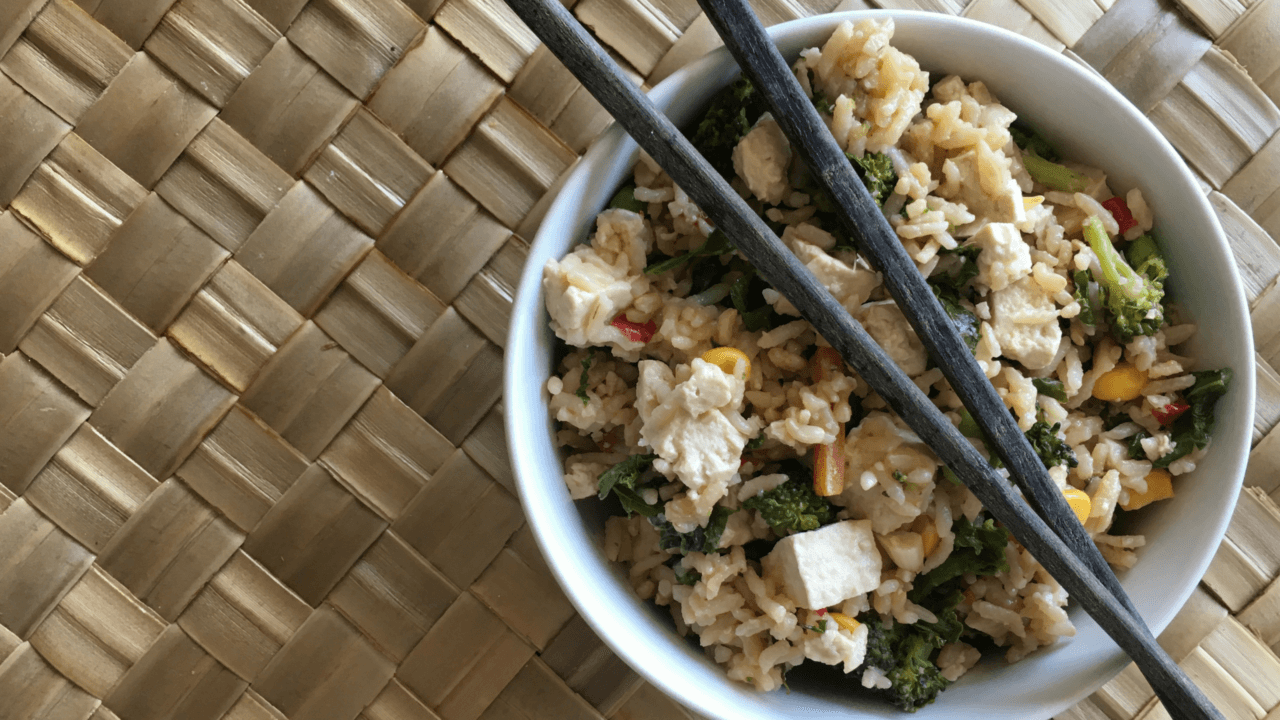 I cook just about every meal every day, but homemade doesn't have to be time consuming or difficult. There are nights when I love to savor my time in the kitchen with a new recipe, but there are also several nights a week where dinner is a sprint. On nights like those, I take some help from the store. This Tofu Vegetable Fried Rice was one of my recent creations.
I threw this together in 30 minutes while I emptied the dishwasher and straightened up my kitchen and living / dining room. My initial plan was to marinate the tofu and serve with couscous and broccoli but had a feeling that the kids wouldn't be too excited about the meal. I found a package of Trader Joe's vegetable fried rice (yes, it's vegan!) in the freezer. I also received a surprise delivery of fresh homegrown kale from a friend and was inspired to toss it into the pan at the last minute.
This Tofu Vegetable Fried Rice was a hit with me, my hubby and vegetarian daughter. Unfortunately, Alex wasn't a fan, but I rarely have all 3 love a dish (Jake was away at his cousin's house).
Try it for yourself and let me know what you think!
Tofu Vegetable Fried Rice
Ingredients
1

block firm tofu

4

tablespoons

tamari or soy sauce

8

tablespoons

orange juice

2

cloves

garlic minced

½

teaspoon

ground ginger

8

ounces

of broccoli florets

2

cups

kale

coarsely chopped

1

package Trader Joe's vegetable fried rice
Instructions
Drain and lightly press the block of tofu between paper towels. Slice in half and then into 4 rectangles. Place in a Ziploc bag with the tamari, orange juice, garlic and ginger. Allow to marinate while you prep the rest of your ingredients (about 20 minutes).

Heat 1 tablespoon of oil in a pan and add the fried rice. Cook about 10 minutes.

Stir in the broccoli and cook until bright green (about 5 minutes).

Stir in tofu and marinade and cook an additional 5 minutes until heated through.

Stir in the kale and cook until wilted, about 3 minutes.