Lentil Walnut Meatballs and Easy Marinara Sauce (Vegan)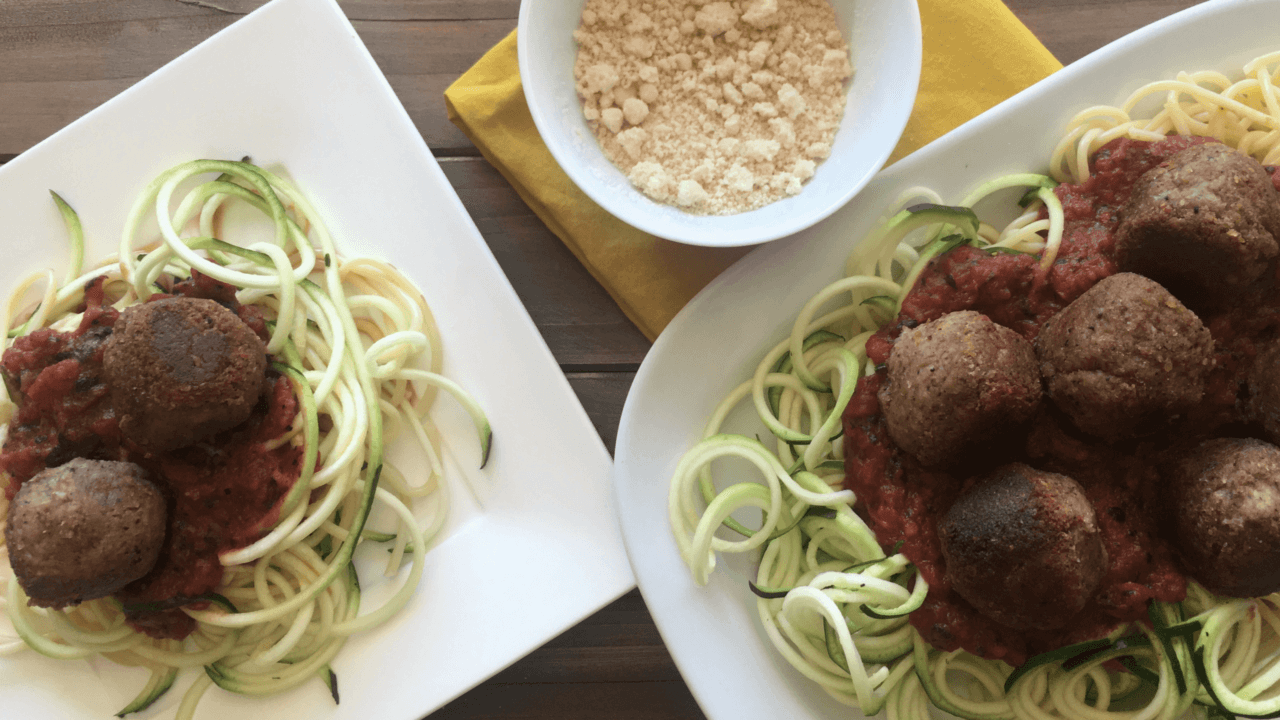 I hope your family enjoys these Lentil Walnut Meatballs as much as mine! As a vegan Italian, plant-based meatballs are a staple in my house. There are some great ready-made options at the store by Gardein and Trader Joe's, but my family prefers homemade. My Beyond Meat vegan Italian meatballs are always a win, but I recently played with my lentil burger recipe to create an Italian meatball that is free of faux meat.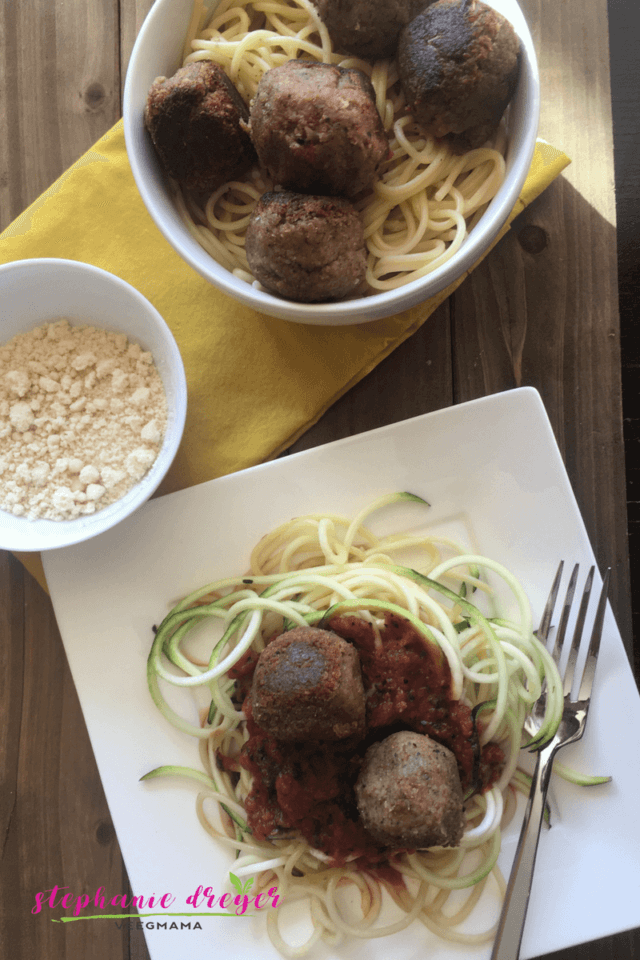 These lentil walnut meatballs start with a saute bath of mushrooms in garlic, onion, and olive oil. The smell is insanely delicious. There is nothing like the aroma of onion and garlic in my opinion! That's the most "strenuous" part of the recipe. After that, you just combine the rest of the ingredients in a food processor and pulse until smooth. Make them gluten-free by swapping out the breadcrumbs for a gluten-free option.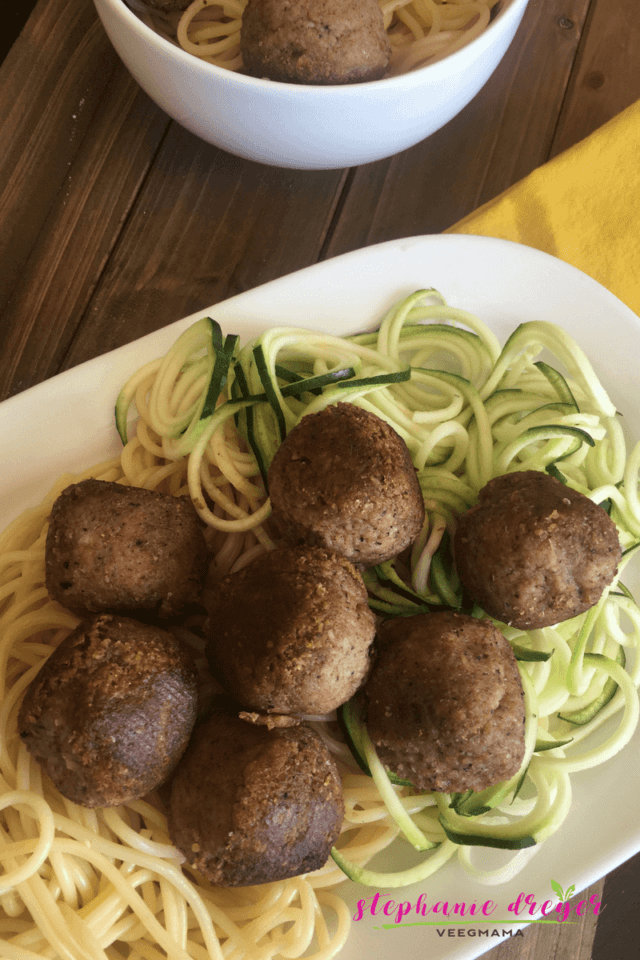 I used a cookie scoop to form these lentil walnut meatballs. Make sure the oil is hot enough and covers the bottom of the pan well before placing your meatballs inside. You don't want to walk away from these or be multi-tasking (I have tried and burnt them!). Monitor your meatballs and keep rolling them so that they get crispy all around.
I have also included a recipe for a quick and easy marinara sauce. I throw all of the ingredients for the sauce in a pot before I start the meatballs so that it can simmer, allowing the flavors to be enhanced.
I like to serve these meatballs over a combo of zoodles (zucchini noodles) and spaghetti. I toss the raw zoodles with the spaghetti and it blends in nicely. It's the only way I can get my kids to eat zucchini!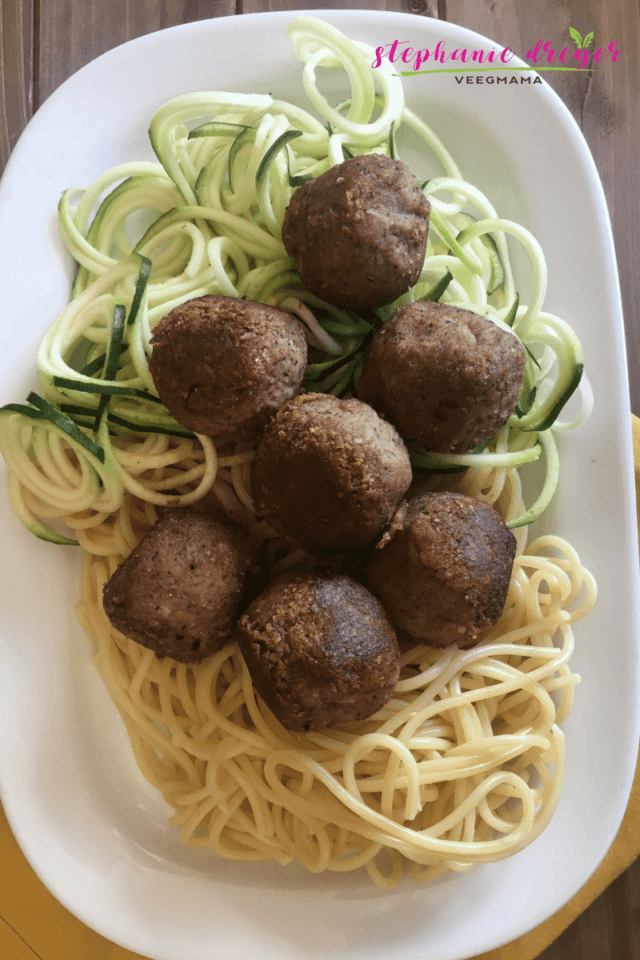 Please try these Lentil Walnut Meatballs, and let me know what you think. My non vegan kids aren't always fans of the faux meats so having whole foods plant-based option like these is a great go-to recipe for our family. For more Italian recipes that my family loves, try my Dairy-Free 3-Cheese Rigatoni, my Vegan Beef Lasagna Rolls, or Italian Stuffed Ricotta Burger.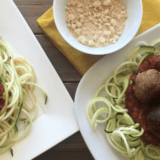 Lentil Walnut "Meatballs" with Marinara Sauce
Ingredients
For the "meatballs"
1 14.5

ounce

cans lentils

or 1 3/4 cups cooked lentils

2

cups

breadcrumbs

1

cup

walnuts

1

tablespoon

garlic powder

1

tablespoon

onion powder

2

cups

sliced mushrooms

about 8 ounces

1

small onion

chopped

2

garlic cloves

minced

2

tablespoons

olive oil

2

teaspoons

salt

Salt and pepper

to taste
For the sauce:
2 28

ounce

cans crushed tomatoes

½

onion

diced

3

cloves

garlic

minced

1

teaspoon

oregano

1

tablespoon

balsamic vinegar

Salt and pepper

to taste
Instructions
Sauté the onion and garlic in the olive oil until onion is translucent, about 5 minutes.

Stir in the mushrooms and cook about 10 minutes.

Combine the mushrooms, walnuts, lentils, breadcrumbs, garlic powder and onion powder in a food processor and pulse until smooth. Season to taste with salt and pepper.

Form into small golf-ball sized meatballs.

Heat olive oil in a pan. Place the meatballs inside and cook, turning often until golden brown and crispy all around.

For the sauce, the onion and garlic in 1 tablespoon of olive oil. Add the tomatoes, oregano, salt, and balsamic vinegar. Simmer for 15 minutes. Season with additional salt and pepper to taste.

To serve, cook 8-16 ounces of spaghetti, spiralize 2-4 zucchinis, or use a combination of both. Top with the sauce and "meatballs".