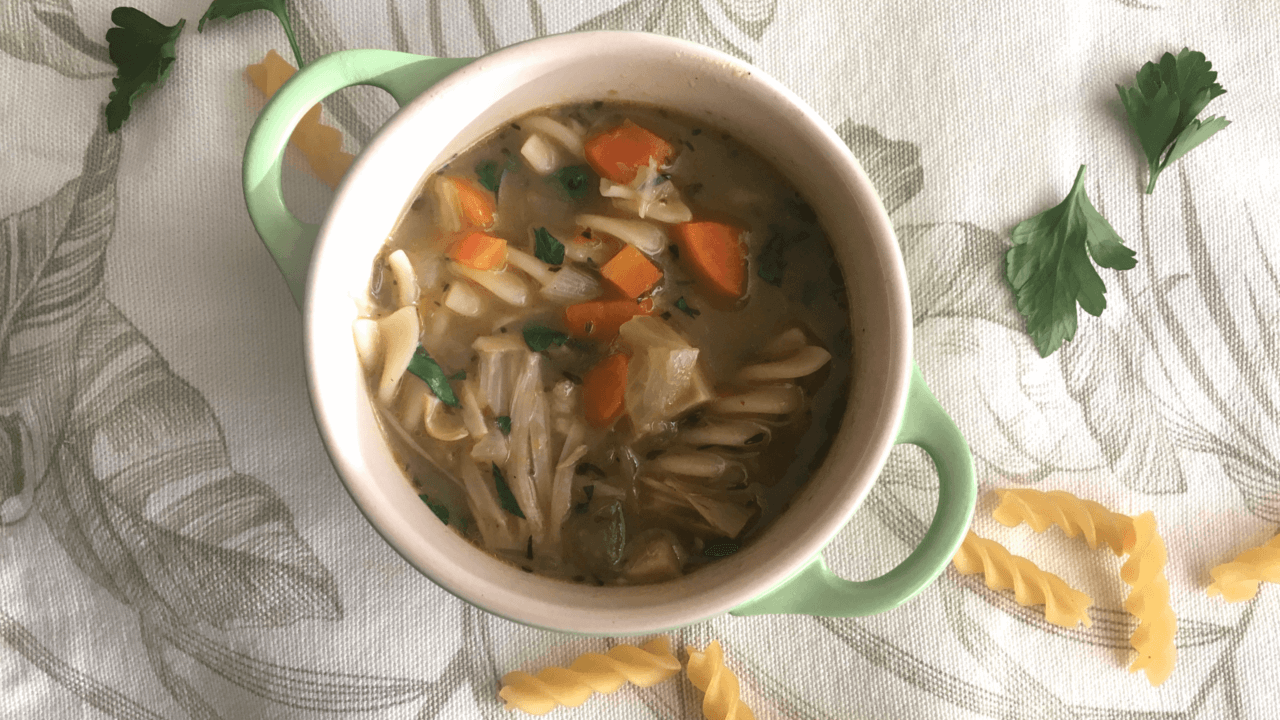 This Jackfruit Noodle Soup recipe is the product of a lot of testing! I have been experimenting with jackfruit for about a year, ever since it started popping up in vegan recipes. Back then, I had to order it online. Today, you can find it at Trader Joe's! Jackfruit is a fast-growing tropical Asian tree related to the breadfruit. It's found mostly in India and has a texture that is similar to hearts of palm or artichoke hearts. It doesn't smell fantastic or taste like much straight from the can, but once you rinse and flavor it, jackfruit is a fabulous substitute for shredded chicken, pork, or beef. You can find lots of recipes for it in vegan pulled pork, sloppy joe, and faux fish dishes. I have used it in enchiladas with great results, but have been hankering to try it as a chicken sub in the classic Chicken Noodle Soup.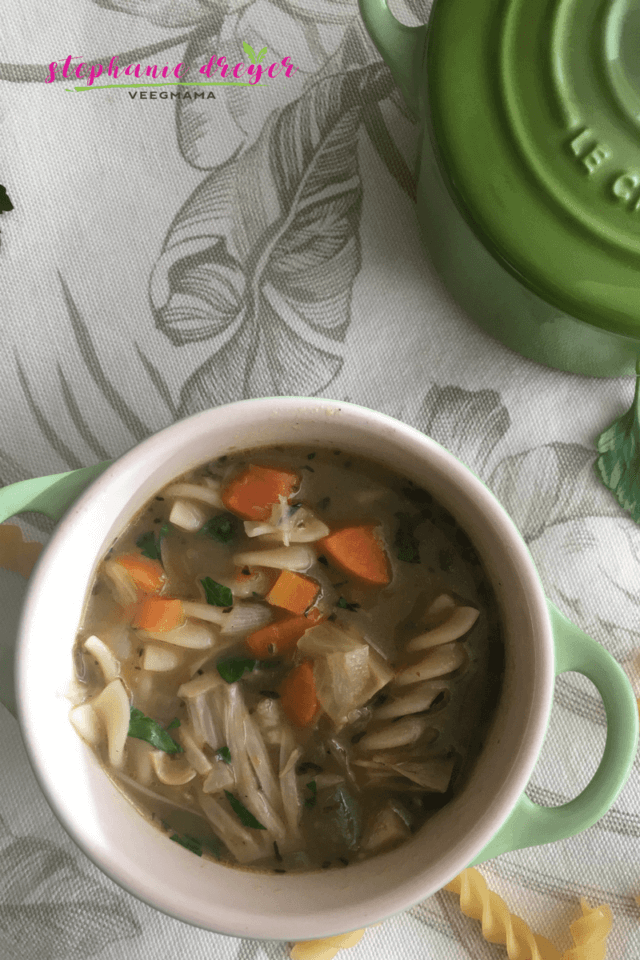 My first attempt at this Jackfruit Noodle Soup was in a slow cooker with mediocre results. The jackfruit got too mushy and the seasonings weren't right. I kept working at it, and found the best results came when I seasoned the jackfruit separately and added it at the end, right before serving. My Dutch oven also turned out to be the best way to make the soup instead of using a slow cooker.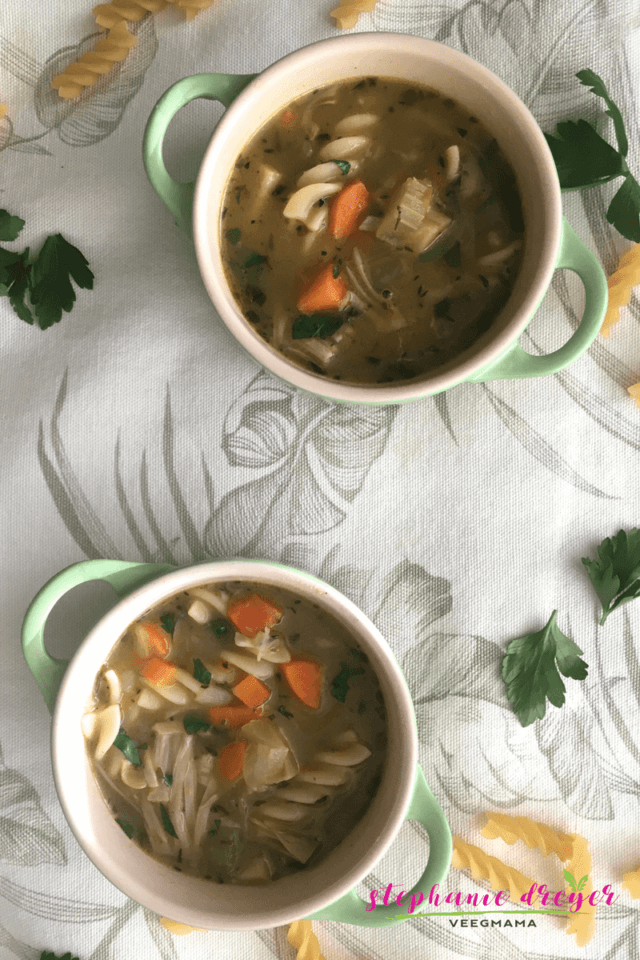 The seasoned jackfruit is delicious on its own. I might make a batch in the future and use some of it in burritos or spooned over rice. I use two forks to shred it apart, which reminds me of what my mom used to do when she'd make shredded chicken for enchiladas. Yep, definitely going to have to try an enchilada recipe with this jackfruit!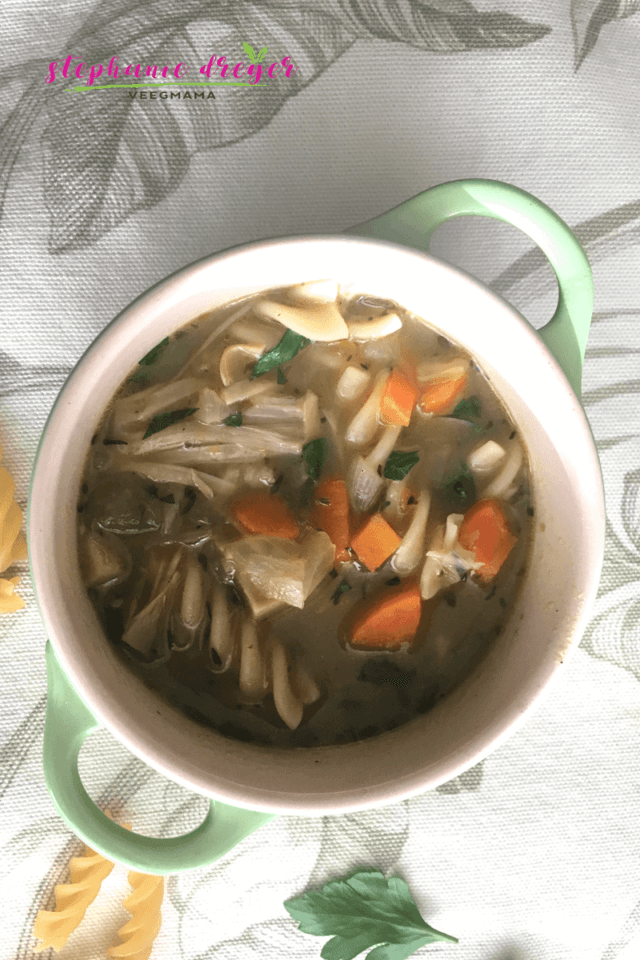 I am finally pleased to share the fruits of my Jackfruit Noodle Soup labor with you! I shared it with my family and my kids  gave it a thumbs in the middle, while my husband gave it an enthusiastic thumbs up. I hope you'll try it and let me know what you think. I want to give a special shout out to Denise B. for the encouragement with this recipe – you inspired me to keep at it. I hope you enjoy it!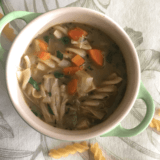 Jackfruit Noodle Soup
Ingredients
For the jackfruit:
1 20-

ounce

can of green jackfruit

in brine or water

3

garlic cloves

minced

1

small onion

chopped

1

teaspoon

thyme

1 ½

teaspoons

oregano

1

teaspoon

kosher salt

1

tablespoon

olive oil

½

cup

of water

2

tablespoons

lemon juice
For the soup:
2

tablespoons

olive oil

1

large onion

diced

2

large carrots

diced

2

stalks of celery

diced

3

garlic cloves

minced

12

cups

vegetable broth

preferably Imagine No-Chicken Vegetarian Broth

1

teaspoon

salt

1

teaspoon

thyme

2

bay leaves

3

cups

of rotini

or other curly noodle

½

cup

fresh parsley

chopped
Instructions
Heat the oil in a large skillet over medium-high heat. Stir in the onion and saute for 2-3 minutes until softened and slightly golden. Add in the garlic, thyme, oregano, and salt.

Stir in the jackfruit, lemon juice and water. Cover and simmer 10 minutes.

Remove from heat. Using a fork, smash and shred the jackfruit.

While the jackfruit is cooking, heat the oil in a Dutch oven or medium-high heat. Add the onion, carrot, and celery, and cook for about 10 minutes, stirring occasionally. The vegetables should be lightly browned and tender. Stir in the garlic and cook for one more minute, until fragrant.

Add the broth, thyme, bay leaves, and salt. Bring to a boil and add the noodles. Cook about 12-14 minutes, until the noodles are al dente.

Turn off the heat and remove the bay leaves. Stir in the jackfruit and parsley.