Italian Stuffed Ricotta Burger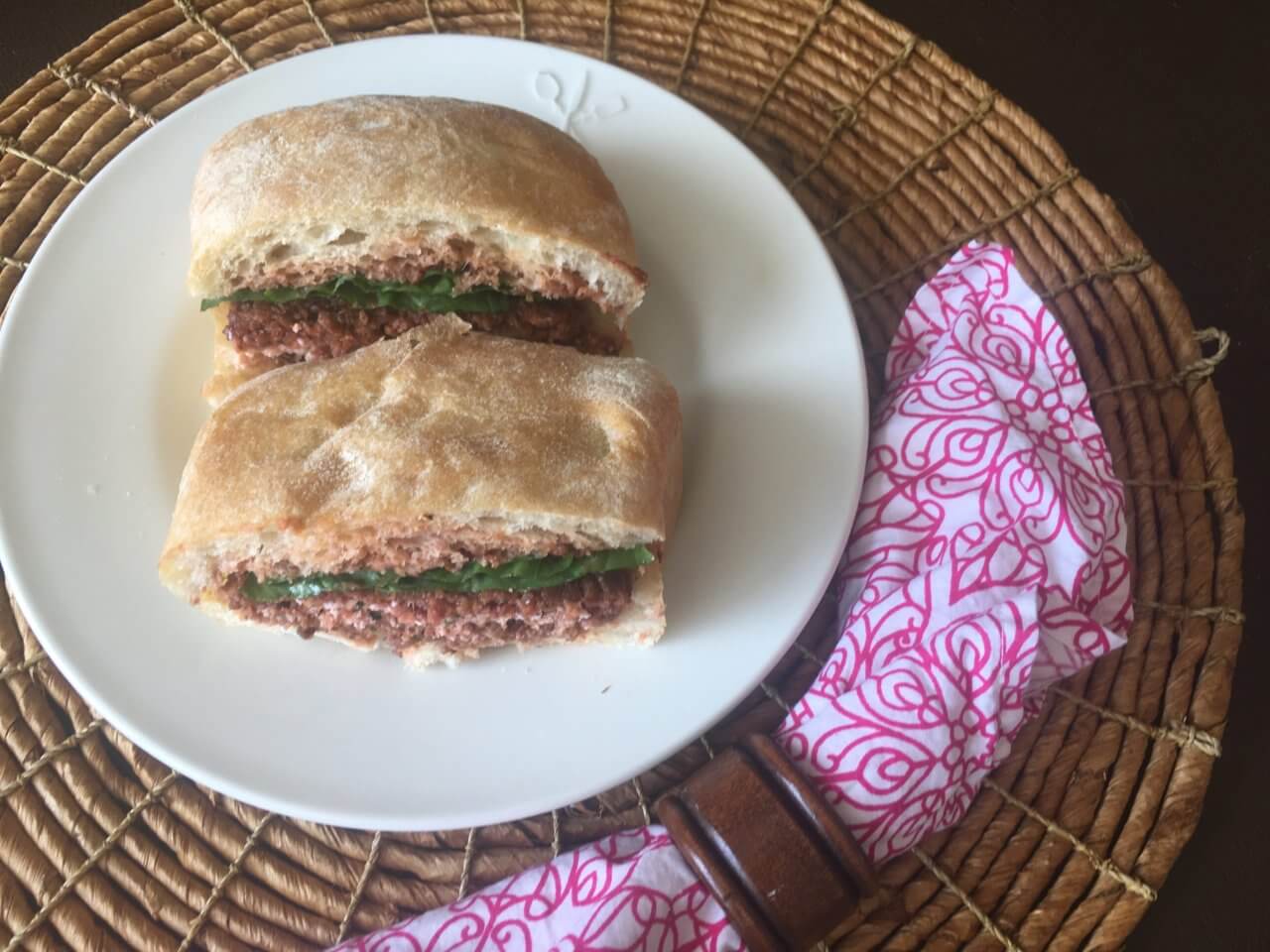 I have been a little obsessed with Beyond Meat's Beyond Burger lately. They are delicious on their own, but I've been having fun playing with them in all kinds of recipes. My Italian Meatballs were my last creation, and today, I am excited to share this Italian Stuffed Ricotta Burger. Stuffed burgers are all kinds of fun! It's a surprise inside an already tasty treat.
For this burger, I wanted something creamy and savory to sandwich between the Beyond Burger patties. Kite Hill's Ricotta is the perfect salty filling for this recipe. I added a few ingredients to the cheese and formed it into a small ball and flattened it between the patties, so it would melt while it cooked. I added traditional Italian seasonings to the burgers with a special shout out to rosemary. I think it makes this Stuffed Italian Ricotta Burger!
To put the burger together, I used a ciabatta roll for a thematic twist on the hamburger bun (focaccia would be tasty too), some doctored up marinara sauce (although regular store-bought works just fine too), and fresh basil leaves. Read on for the recipe below and let me know what you think!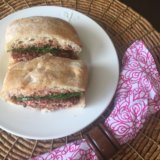 Italian Stuffed Ricotta Burger
Ingredients
For the burgers
1

package Beyond Meat Beyond Burger

1

teaspoon

garlic salt

1

teaspoon

salt-free Italian seasoning

1/2

teaspoon

salt

1/4

teaspoon

pepper
For the marinara sauce
1

cup

marinara sauce

1/2

tablespoon

red wine

1/2

tablespoon

balsamic vinegar

1

clove

garlic,

minced

2

dashed Italian seasoning

2

ciabatta rolls

1

tablespoon

olive oil

salt and pepper,

to taste

6-8

basil leaves
For the ricotta
1/4

cup

Kite Hill dairy-free ricotta

1

clove

garlic,

minced

1/4

tsp

dried rosemary

1

leaf

basil,

finely chopped
Instructions
Combine all of the ingredients in a small bowl. Stir well to mix all the ingredients. Form into two small balls and flatten.
For the burgers
Combine the burgers and seasonings in a bowl. Mix well.

Flatten the mixture into 4 evenly distributed patties.

Take one of the ricotta balls and place on top of one of the patties, flattening to spread it out on top of the burger.

Place another burger on top and form together into one thick patty.

Heat a grill or pan on medium heat with 1 tablespoon of olive oil.

Cook the burgers about 5 minutes on each side.
For the marinara sauce
Heat the marinara sauce and remaining ingredients in a sauce pan.

Simmer for 10-15 minutes.
To assemble the burger
Slice the ciabatta rolls in half. Drizzle with olive oil, salt and pepper.

Spread marinara sauce on each slice of bread.

Top with a burger and 3-4 basil leaves.

Top with the other slice of bread.