Vegan Chicken Penne Alfredo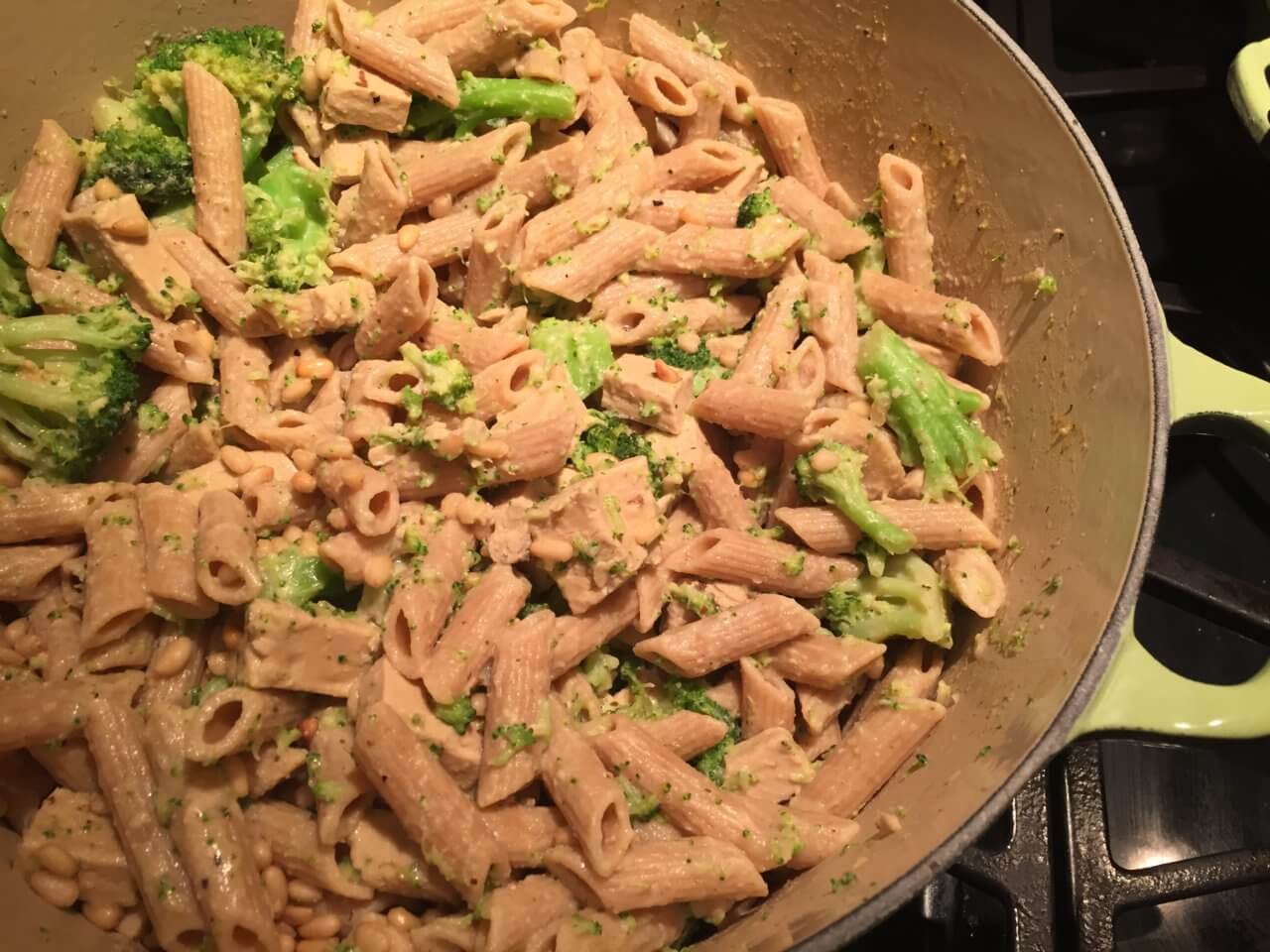 My in-laws were visiting for Shabbat last Friday and I needed a special meal that would please carnivores.  It had been a long week and I hadn't been able to decide what to cook when I did my meal planning and shopping earlier in the week.  I went to Whole Foods to pick up some Beyond Meat "chicken" strips for inspiration, and remembered a new product my sis-in-law told me about: Heidi Ho cheese.  My local Whole Foods had 3 of the 6 flavors in stock, including Smoky.  The packaging mentioned using it for an Alfredo sauce and an idea for dinner was ignited: Vegan Chicken Penne Alfredo!  I made this dish and a kale/romaine Caesar salad in 30 minutes on the spot – the perfect Homemade-ish meal (my answer to a busy person's need to get dinner on the table in a half hour or less.)  This Vegan Chicken Penne Alfredo is clearly a no fuss meal, but comforting and delicious nonetheless.  I hope you enjoy it as much as my family did.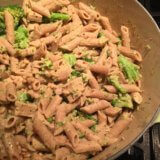 Vegan Chicken Penne Alfredo
Ingredients
1

package Beyond Meat Seasoned Chicken Strips

, chopped into 1/2 inch length pieces.

4

cups

broccoli florets

1

package whole wheat penne

1

package Heidi Ho "Smoky" flavored cheese

1/4

vegetable broth

1/4

cup

pine nuts

, toasted

Salt and pepper

, to taste
Instructions
Heat water for pasta. Once boiling, add in the penne and cook for 10 minutes. Add in the broccoli florets for the last 3 minutes of cooking. Drain and set aside.

Meanwhile, heat the vegetable broth in a saute pan. Add in the chicken strips and cook for 3 minutes.

While the pasta and broccoli are still hot, add in the chicken with broth and stir in the Heidi Ho cheese and combine until melted.

Toss in the pine nuts and stir.

Season with salt and pepper to taste.