Egg-free Sweet Potato Latkes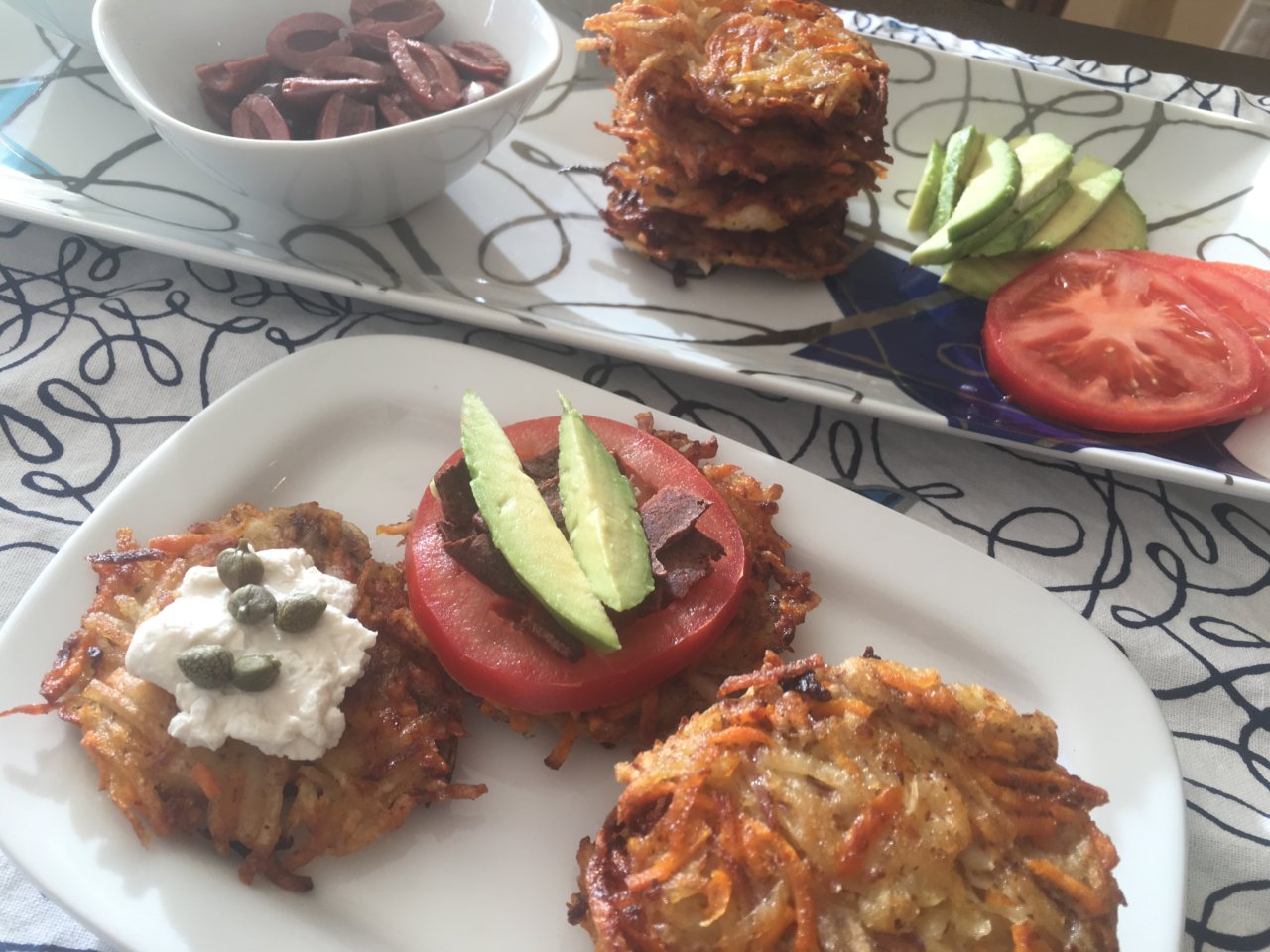 Latkes are potato pancakes traditionally topped with sour cream or applesauce, and served during Hannukah. Since converting to Judaism almost 11 years ago, I have strived to master the art of the latke.  For the last two years, my havurah, (a group of Jewish families), has held a latke competition.  I am proud to say that I won third place last year for my "chip and dip" latke!  I am currently developing my entry for this year!
Sweet potato latkes are a fun alternative to the traditional pancakes, and they are easy to veganize by swapping out the eggs with an easy alternative that adds a protein superfood boost to these otherwise greasy snacks.
Tips for Making Sweet Potato Latkes
If you have never made latkes before, there are a few important things to know:
Grate your potatoes and onions well.
Squeeze out as much liquid as possible.
Don't use too much oil.
Make sure the oil is hot enough before placing in your latkes.
To grate the potatoes and onions, I use a food processor with the grater blade instead of doing it with a box grater.  It makes less work and prep much faster.  If I can recruit my kids to peel the potatoes, I have hit the jackpot!
Once I have shredded the potatoes and onions, I scoop everything into a clean kitchen towel and wring out directly into the sink.  Once I get all the liquid out that I can squeeze, I empty the contents into a large mixing bowl with the rest of my ingredients.
Before making the potato patties and placing them into the oil, make sure you only pour a thin layer of oil.  Too much oil will cause the latke to fall apart and take longer to cook.  You also want to make sure the oil is hot and "fry ready" before placing your sweet potato latke down in the pan.  To test it, place the handle of a wooden spoon into the oil.  If the oil sizzles, it's ready.
Traditional latkes use yellow onion, but for this sweet potato version, I went red instead.  Feel free to stick to the traditional if you prefer.  My kids love these topped with my caramelized onion dip, but you can also have lots of fun creating themes with your toppings.  This year, I am going to try a "taco latke" and top it with homemade guacamole and soyrizo!
This recipe makes a batch of 12 latkes.  These go so fast in my house that I can barely keep up with the demand! Because of the heavy prep involved, I usually triple the recipe and make a huge batch that the family can eat all week long.  They also freeze really well, so you can store and reheat whenever your potato craving calls!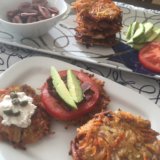 Egg-free Sweet Potato Latkes
Ingredients
1 ½

pounds

(2 medium to large potatoes)

½

pound

sweet potatoes

(1 medium to large sweet potato)

1

medium red onion

½

cup

flour

2

flax eggs

(2 tablespoons flaxseed meal + 3 tablespoons water)

1

teaspoon

salt

Canola oil

, for frying
Instructions
Prepare the flax eggs. Combine the flaxseed meal and water in a bowl. Stir well to combine and refrigerate until ready to use.

Slice the potatoes and red onion into wedges to fit into a food processor feeder tube, and process with the shredder blade. Using a kitchen towel, squeeze out excess liquid from the potatoes and onions.

Place the onion and potato mixture in a bowl and add the flax eggs, flour, salt, and pepper. Mix well.

In a large skillet over medium heat, heat a thin layer of oil. Take a heaping tablespoon of batter and flatten it with your hands, patting it into a pancake, before gently placing it in the hot oil. Continue doing this for as many latkes that can fit in the pan without crowding. Fry until golden brown on both sides, turning once, about 8 minutes total.

Repeat with remaining potato mixture, adding more oil as necessary. Remove cooked potato pancakes to paper towels to drain.