Dairy-Free Roasted Garlic Mashed Potatoes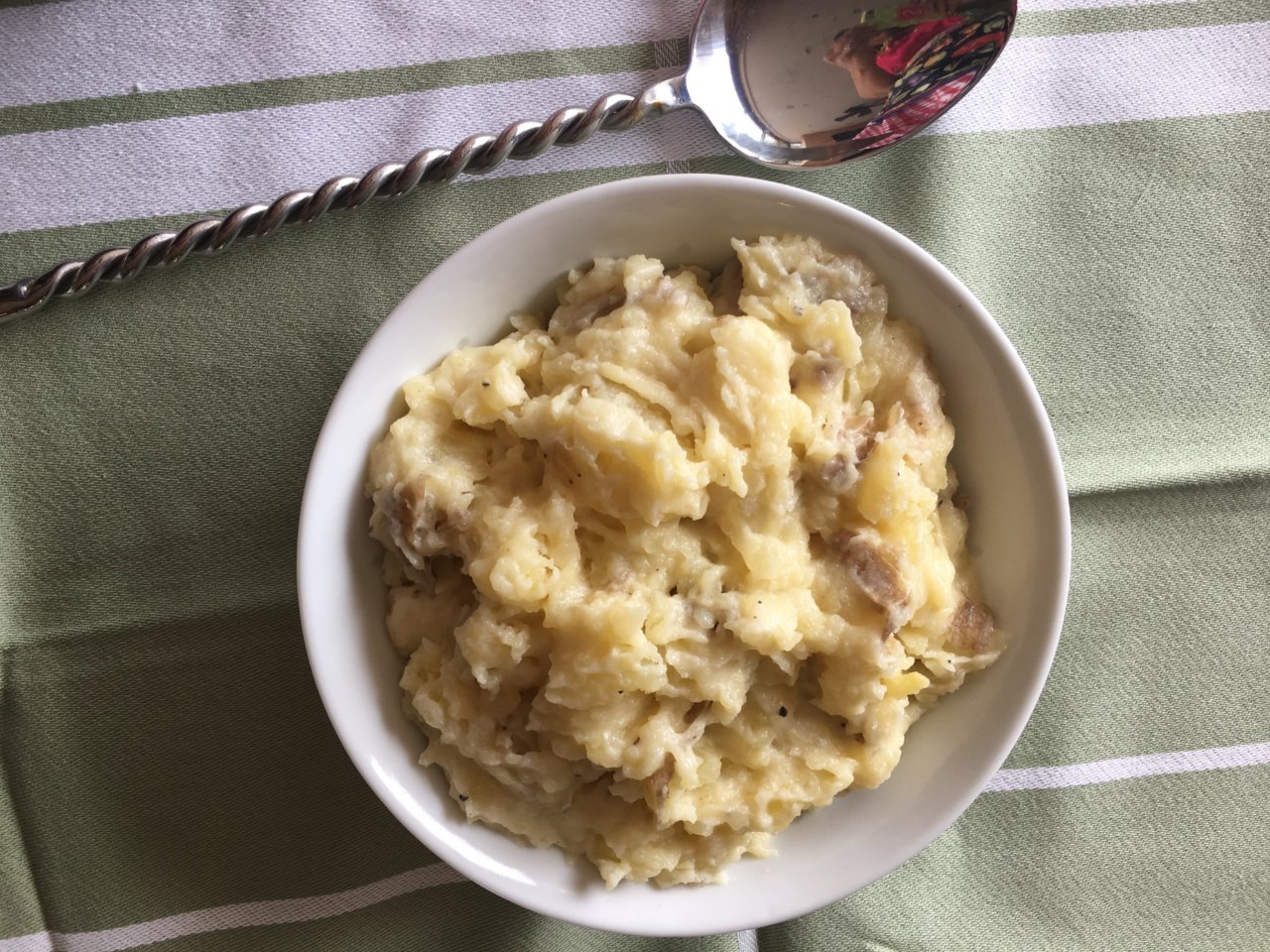 Whether you are going dairy-free for an allergy, want to keep it healthier, or want to do right by mama cow, you'll want to try this recipe and experience how delicious mashed potatoes can still be without the dairy.  I am ditching the dairy products for equally silky results with ingredients like Earth Balance butter, almond milk, and Tofutti sour cream. Not everyone adds sour cream to their potatoes, but I like the extra creaminess it adds. Sour cream is one of my must-haves on a baked potato, so it is only natural for me to add them to my mashed potatoes too.
I kick my potatoes up a notch with a head of roasted garlic. It's an extra step, but for a garlic lover like me, it's worth the additional minimal effort.  By the way, roasted garlic, in general, is a great "secret ingredient" to boost any side dish. It will give your casseroles, dressings, and sauces an extra "What is that incredible flavor?" factor!  I am a bit of a garlicaholic, but don't take my word for it, try this recipe and taste for yourself!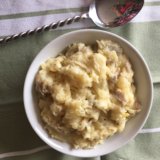 Dairy-free Roasted Garlic Mashed Potatoes
Ingredients
3

pounds

Yukon gold potatoes

, peeled and cubed

4-6

tablespoons

dairy-free butter such as Earth Balance

1

cup

almond mik

2-4

tablespoons

dairy-free sour cream

, such as Tofutti

1

head of garlic

2

tablespoons

garlic powder

Salt and pepper to taste
Instructions
Peel and cube the potatoes and cover with water. Bring to a boil and cover. Reduce heat and cook about 30 minutes until potatoes are fork tender.

While the potatoes are cooking, preheat the oven to 400 degrees. Cut the bottom off of the head of garlic, drizzle with olive oil, and season with salt and pepper. Wrap in foil and place on a baking sheet. Roast for 45 minutes.

When the potatoes are done cooking, drain and place in a bowl. Add half of the butter and milk. Squeeze the garlic out of the head and add to the potatoes.

Using a potato masher, combine the mixture. Continue adding the butter, milk, and sour cream, mashing until you reach your desired consistency, creaminess, and taste. Taste them as you go along!

Stir in the garlic powder, and season with salt and pepper as desired.