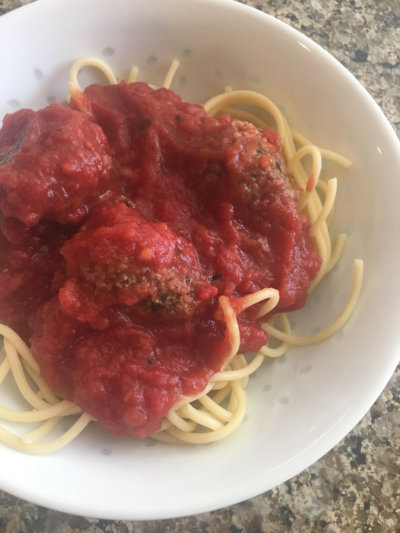 My family can't get enough of The Beyond Burger from Beyond Meat. My husband, an omnivore, actually requests it over a meat burger. We've eaten them numerous times at home and have brought them to BBQs to share. Yep, we love them! Aside from the taste and texture of the burger, I love that the "meat" is in a ground form that can be shaped any way you want. It has inspired me to create a meatless version of my grandmother's Italian meatballs that I loved so much.
I remember many evenings in my grandmother's little kitchen, watching her chop garlic for her homemade Italian meatballs. I loved to take her hands after she chopped the garlic and washed her hands, and put them over my face so I could breathe in the intoxicating mouth-watering aroma of garlic. The smell of fresh, raw garlic still takes me back to her kitchen after all these years.
"There's nothing to these," she would say about the recipe for these meatballs. She followed the method her mother taught her. A recipe?
"I don't have a recipe, Stephanie. I just throw a little of this and that together."
That's how my grandmother cooks. It's how she learned from her mother, and I suppose, how she taught my mother, who taught me. The simplicity of these meatballs makes them come together so easily and quickly, a great weeknight family meal.
There has never been a ground faux meat product available that has allowed me to create a vegan version of my grandmother's meatballs. (I am still waiting for Tofurky's DIY "meat" to hit stores.) I have made bean balls, and other versions with rice and mushrooms, but never a meatball with faux meat. After cooking with The Beyond Burger a few times, I realized I could do it with their product!
Just like my grandmother's Italian meatballs, there's not much to these. You could season them a variety of ways to change things up, but I stayed true to my grandmother's original "recipe" – just some garlic, parsley, salt and pepper. I added some breadcrumbs to help the "meat" bind a little better, as the texture is a little wet and I didn't want them to be too delicate when browning them up in the pan.
My grandmother would make a big pan of these and serve them two ways: with her homemade spaghetti sauce and a big pot of spaghetti, or topped with a homemade brown gravy and served over white rice. Both meals are still my favorite comfort foods today.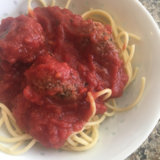 VEGAN ITALIAN MEATBALLS
Ingredients
2

Packages

Beyond Meat's The Beyond Burger

1/2

Cup

Breadcrumbs

1/4

Cup

Chopped Italian Parsley

4

Cloves

Minced Garlic

2

Tsp

Salt

1

Tsp

Pepper

1

Tbsp

Olive Oil
Instructions
1. Combine all ingredients in a bowl and mix well.


2. Form the mixture into 12 small meatballs.

3. Heat the olive oil in a pan. Add the meatballs and rotate on all sides so they are evenly cooked and browned on all sides.