Vegan Beef & Cheese Taquitos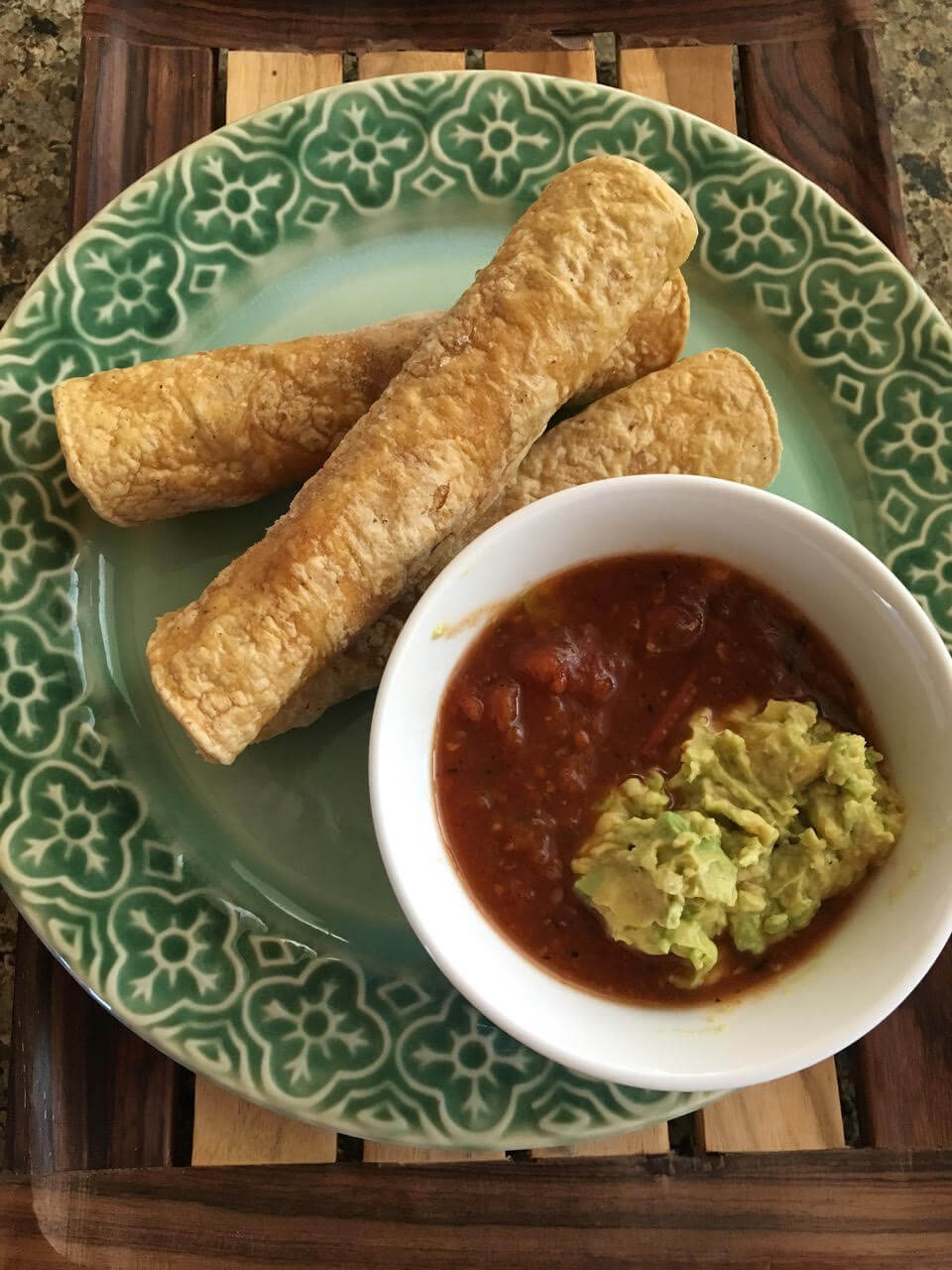 My family loves Mexican food. Taco Tuesdays are a tradition every week in my household, and burritos and tacos make it on our breakfast and lunch menu at least once a week. Because I always cook more food than anyone can eat, I typically have leftover taco filling from Tuesday night that I eat the rest of the week in vegan taco bowls or the breakfast burritos I mention above.
Recently, I decided to reinvent the leftovers with this recipe for vegan taquitos. They are super, super easy to make – and oh so quick. I use the microwave to zap the tortillas to soften them up and then just lay in my homemade Beyond Meat filling and a sprinkling of Daiya cheese.
These vegan taquitos are baked, not fried so you can feel good about eating them and serving them to your kids. They are also gluten-free which is an extra bonus for me as my son can't eat gluten, and makes an easy school lunch for all 3 of my kiddos.
I love to serve them right out of the oven with my favorite roasted chipotle salsa from Trader Joe's and some homemade guacamole, but they also freeze great.  Try making a batch and freezing them for school lunches served with sliced cucumbers, cherry tomatoes and fruit.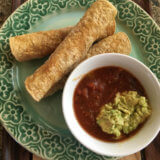 Vegan Beef and Cheese Taquitos
Ingredients
12

corn tortillas

1/2

package Beyond Meat Beefy Crumbles

1/4

yellow onion

, chopped

1/2

can black beans

, drained and rinsed

2

tablespoons

taco seasoning

1/4

cup

Daiya cheddar style shreds

Salsa and guacamole

, to serve (optional)
Instructions
Preheat the oven to 350 degrees.

Saute the onion in 1 tablespoon oil and cook until golden brown.

Add the Beyond Meat and cook until heated through (about 7 minutes).

Stir in the black beans and taco seasoning. Cook 3 more minutes and set aside.

While the filling is cooking, heat the tortillas in the microwave with a paper towel for about 30 seconds to soften them. (You can heat 2-3 tortillas at a time).

Place 2 tablespoons of filling in a horizontal line towards the far end of one tortilla. Sprinkle 1 tablespoon cheese on top. Roll the tortilla with the seam down and place on a foil covered baking sheet.

Bake for 10 minutes until golden brown.

Serve immediately with salsa and guacamole, or allow to cool and freeze in a ziploc bag.
What is your favorite Mexican food? Tell me in the comments section below and I might use it for inspiration to reinvent a recipe!