Vegan and Gluten-Free Beet Burgers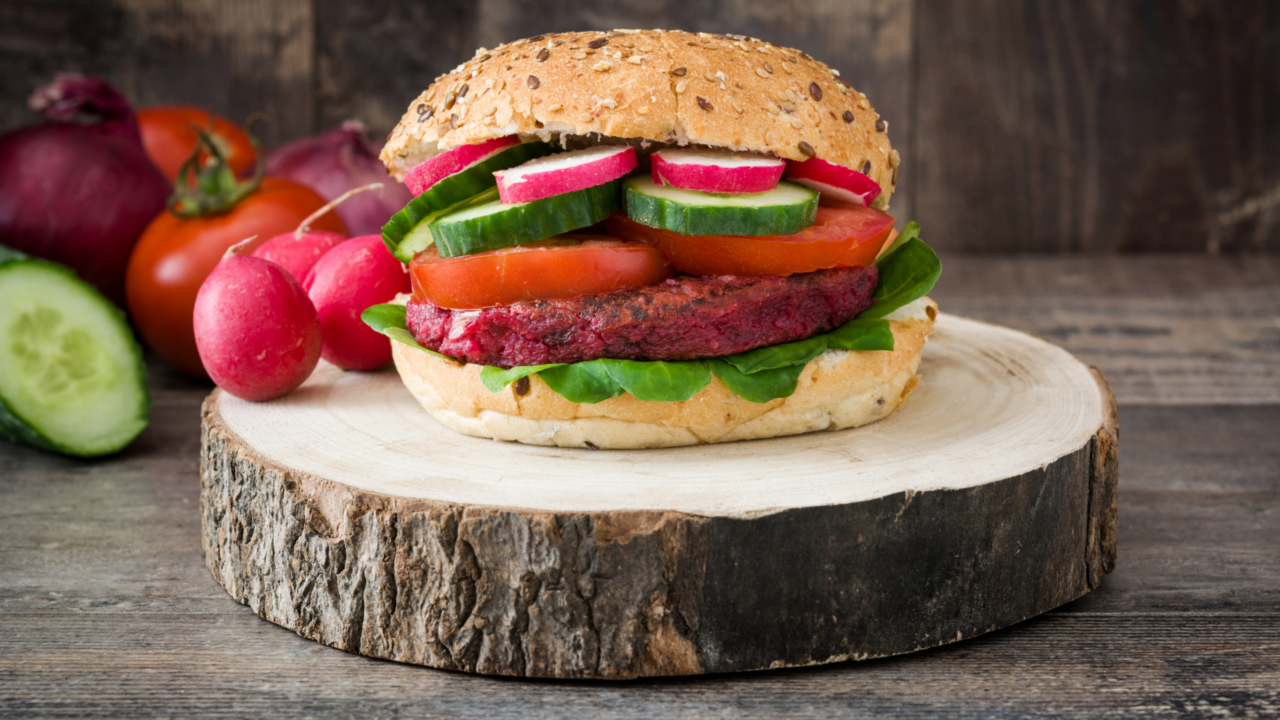 Summer days are so freeing. With the kids home from school with nowhere we have to be, or homework to do, I feel like a kid again too. I have been luxuriating in the peace of the day, letting it unfold where it takes us, only with the occasional outing sprinkled in a couple days of the week, that I have picked from a bucket list that my family compiled at the beginning of the summer.
One of the greatest gifts of these spontaneous summer days is dinner time. Although I am still planning my meals once a week, meal prep is casual and playful, instead of hurried and and "on a mission," like it is during the school year. The kids fly in and out from playing outside to assist with a task or two, or just to see what I am making. I place the platters of food on our table outside and we eat in the summer breeze under our amazing globe lights that we just had installed.
Burgers and grill recipes are in order this time of year. I find myself making them more than ever this season. This recipe is a plant-powered version of my beloved "Hermosa Beach Burger" from my pre-vegan days. I used to make them for me and my husband before kids, when it was just the two of us in our little Hermosa Beach house. The key ingredients were blue cheese and Worcestershire sauce – and the toppings: ranch dressing, avocado, red onion, lettuce, and tomato. Those burgers made me think of the beach, family, and summer days.
So, I played and played with these beet burgers, thinking I might be able to recreate my beloved Hermosa burger. I still haven't quite found a replacement for the unique flavor of bleu cheese, but everything else is very close. Gaby is a huge a fan!
Keep things gluten-free by using chickpea breadcrumbs (Watusee is my go-to brand), along with coarsely ground oats and chickpeas.
For seasonings, you'll need balsamic vinegar, steak seasoning, and vegan Worcestershire sauce. Of course, the star ingredient in these veganized Hermosa Beach beet burgers is the roasted beets. To roast beets, wash and trim the ends. Place them on a cookie sheet and bake at 400 degrees for about an hour. Allow them to cool and then peel carefully (your hands will stain easily).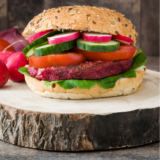 Vegan and Gluten-Free Beet Burgers
Ingredients
2

garlic cloves

2

tablespoons

steak seasoning

1

tablespoons

balsamic vinegar

1

tablespoon

vegan Worcestershire sauce

2

medium beets

, roasted and peeled

1

cup

oats

, coarsely ground

1

cup

chickpea crumbs (or breadcrumbs)

1

can chickpeas plus the liquid

(aquafaba)
To serve:
Vegan ranch (or Thousand Island), such as Follow Your Heart

2

lettuce lives

3

slices

avocado

2

slices

red onion

2

slices

tomato
Instructions
Combine everything in a food processor. Grind until smooth. You may need to add more breadcrumbs if the mixture is too wet. It shouldn't stick to your hands.

Form the "dough" into 6-8 patties.

Cook on a grill or grill pan with a little bit of oil for about 4 minutes on each side until cooked through.

To serve, spread a thin layer of vegan ranch on the top and bottom layer of a hamburger bun. Place the beet burger down and top with tomato and red onion slices, lettuce leaves, and avocado. Lay down the top bun.
Photo: Canva