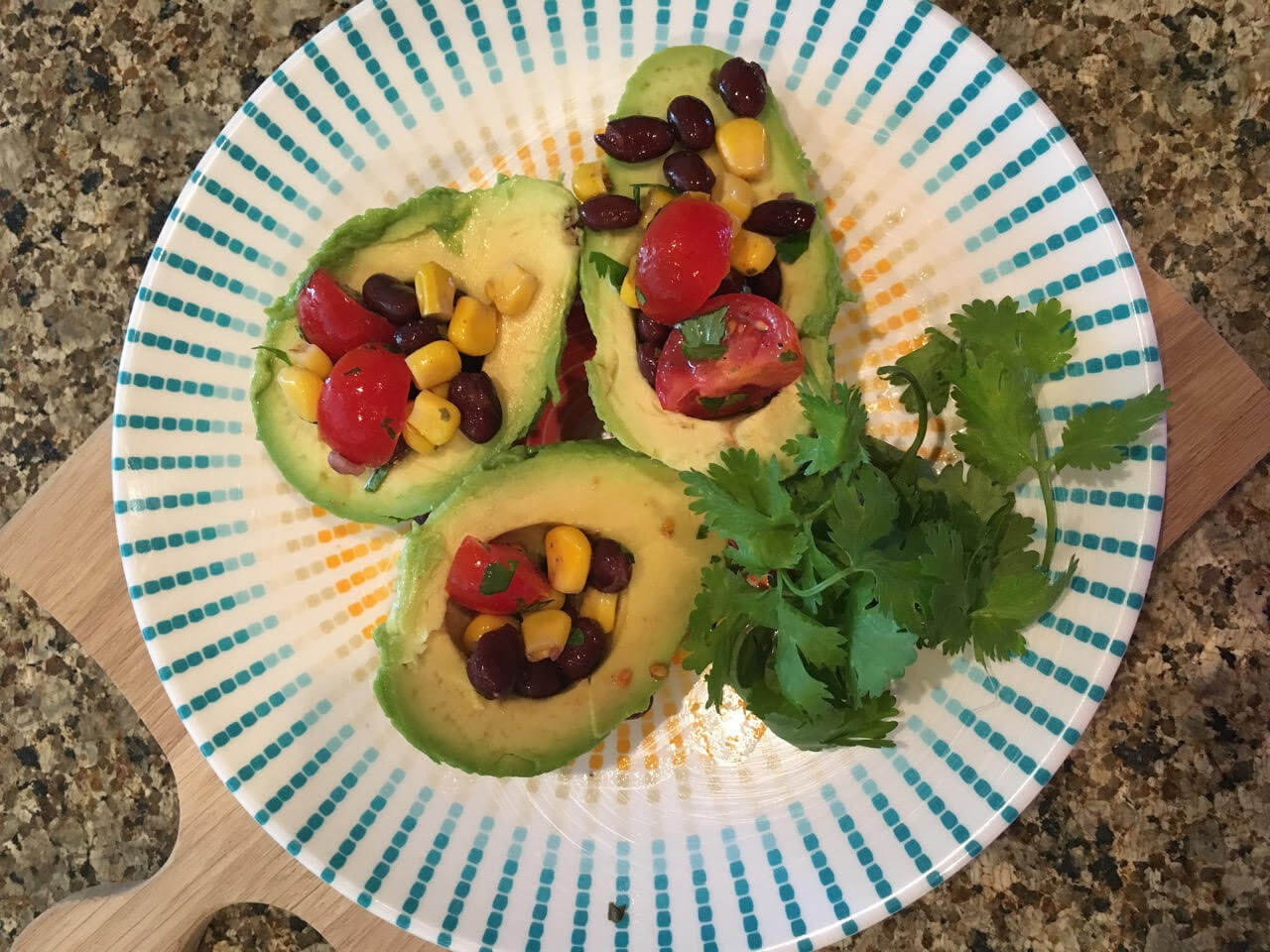 Would it surprise you to know that I eat an avocado just about every day? Chopped on top of a salad, sliced in a wrap, or mashed as guacamole, I crave avocado daily. It is a bit of a comfort food for me, and with all the "good fat" it contains, I try not to feel guilty about eating it! Today, I add a new way to eat my avos – stuffed! A stuffed avocado, you ask? Yes, it's delicious. You will love it!
This stuffed avocado recipe takes my avocado love to a new level. The avocado is the star in this recipe as the main attraction. I made a light and tangy filling, cored out the middle of an avocado half, and filled it to the brim. It's super easy, very delicious, and also quite healthy as I don't use any oil in the filling.
You can easily change up this recipe by mixing up the ingredients in the filling. I used a combo of black beans, corn, tomatoes, olives, and cilantro, but a cowboy caviar or my herb lentils would be equally tasty inside this stuffed avocado. In other words, make it your own. This dish should be savored bite by bite so go all out on how you want to dress up your avo!
This recipe is delish on its own as a snack, but also makes a great lunch side, along a soup such as gazpacho, a salad, or even something Latin like taquitos.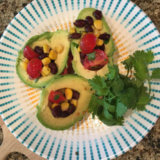 Stuffed Avocado
Ingredients
1

can of corn

, drained and rinsed

1/4

cup

cherry tomatoes

, halved

1

can black beans

, drained and rinsed

1/4

cup

sliced black olives

2

tablespoons

cilantro

, finely chopped

4

tablespoons

red wine vinegar

2 1/2

tablespoons

taco seasoning

4

large organic

, Haas avocados, halved and pit removed
Instructions
Mix the corn, tomatoes, black beans, cilantro, and olives in a bowl.

Stir in the vinegar and taco seasoning.

Spoon the filling into the pit of the avocado, letting it spill over to cover the avocado.
How will you stuff your avocado? Please tell us in the comments below. For more easy and delicious vegan recipes, check out my weekly cooking videos on my YouTube channel and subscribe to my newsletter so you never miss a post!