Meatless and Dairy-Free Tamale Pie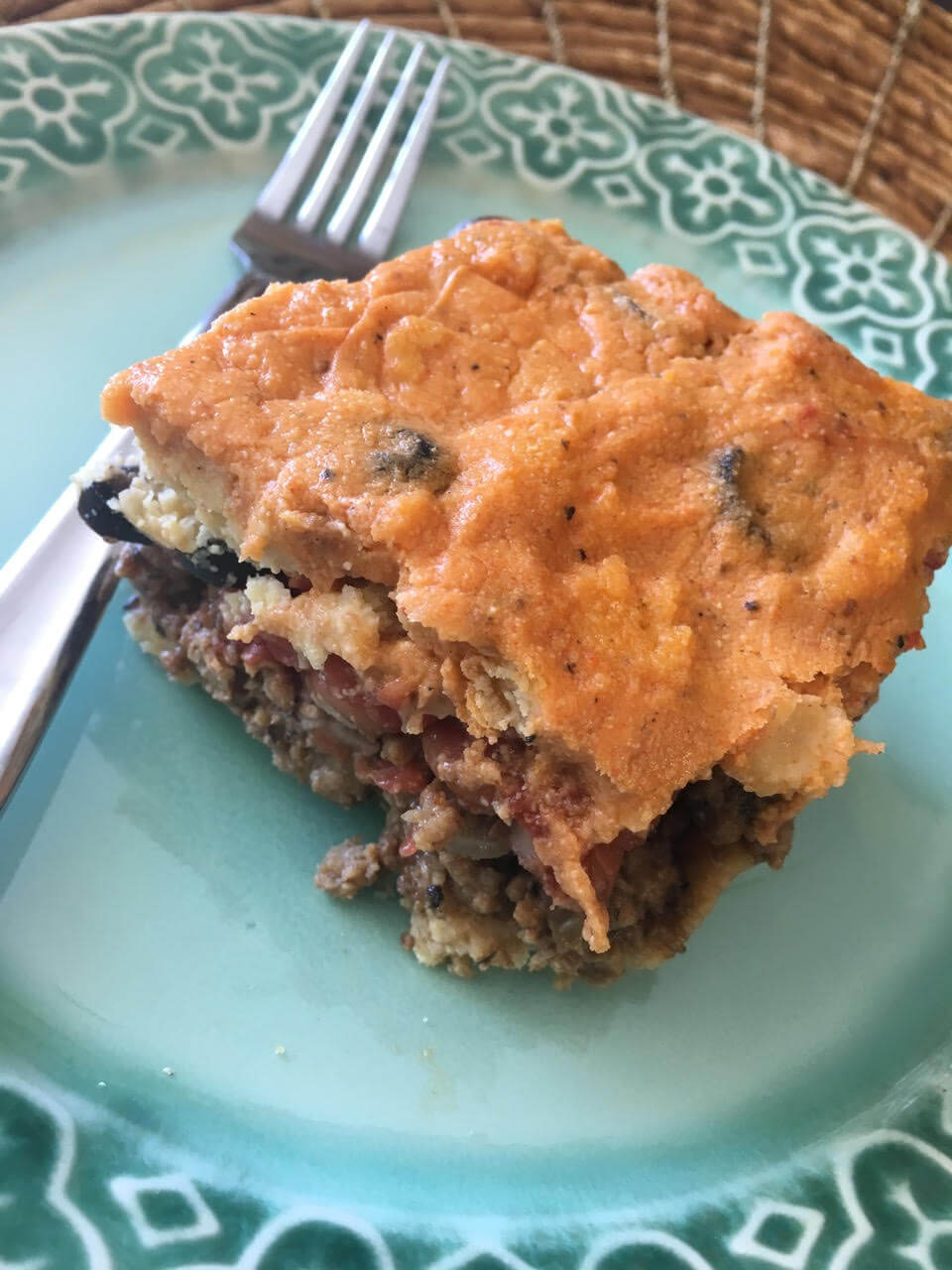 This tamale pie recipe takes me way back. I have been craving my mom's old recipes, the ones she made when I was kid. My mom's cooking was comfort and love when I was a girl, and still is even now at forty-one with kids of my own to love and comfort! I watched her, mesmerized as her hands got to work in the kitchen. There was something so effortless about the way she chopped garlic, stirred pots, and whipped a whisk into a meal. My soul was soothed while she cooked. My young eyes thought it was beautiful. I learned early that food meant love, and my mom poured her heart into every dish she made for me and my sister. My love for cooking definitely began to grow from those days watching her in the kitchen.
My Kitchen Story
My grandmother is Italian and my grandfather was Mexican, so we ate lots of Italian and Mexican food. I can still smell the shredded chicken sautéing in the skillet with onions, my mom preparing a filling for her chicken and cheese enchiladas. I still can't smell garlic without thinking there's a batch of turkey meatballs in the making. Recently, I have been reminded of her tamale pie. I hadn't thought about this tamale pie for years, and then a couple of weeks ago, I called my mom for the recipe. Could I veganize it? True to form, my mom didn't have a recipe. "I just throw everything together," she told me. In truth, that's exactly how I love to cook. Just play and experiment in the kitchen. It's that approach that has influenced my kitchen skills and nurtured my joy of cooking. Thanks, Mom!
Tamale Pie or Casserole?
I call it a pie, but it's really just a casserole, layering everything on top of each other. My mom's tamale pie had masa, ground beef, olives, tomatoes, beans, onions, corn, and cheese. They are simple ingredients, but put them all together and it is comfort food to the umpteenth level! Masa (also known as masa harina) is just corn flour. It is what is used to make tortillas. I really wanted to veganize this tamale pie and share it with my kids. Perhaps, I am getting a bit nostalgic as the school year has started up again, and I realize how fast the time is passing. Have I shared enough of all the childhood recipes that I always loved? Will they take away comfort foods or signature dishes from my kitchen? Have I shared enough pieces of my childhood with them so that they get to know their mother as a person, and not just their mom? I hope this tamale pie is one step closer to answering all of those questions!
A Healthier Version
For my vegan version of my mom's recipe, I customized it to my kids' specific likes. I used pinto beans instead of kidney beans and omitted the corn because the girls don't like how it gets stuck in their braces. That is one of the great things about these types of meals. You can use the method or template to create your own unique version, and then you've got a recipe all your own. To make it meatless and dairy-free, I swapped out Beyond Meat's Beefy Crumbles for ground beef, and used Heidi's Ho's Creamy Cheese (the Smoky would taste great too.) As I layered it all together, I smiled, somehow hoping to transfer all the love and emotion I felt as a kid eating this dish, over to them. I realize that's a lot of pressure to put on one recipe, but I believe in this tamale pie!
I have to say it came out pretty darn tasty. It took me back to my childhood and that's saying a lot given my adoration for my mom's cooking above! I held my breath as my kids took their first bite. I so desperately wanted them to love it. It was a success. All three of them gave it a thumbs up, which doesn't happen often in my house. I usually aim for 2 out of 3, but all 3? I was ecstatic. I think I won the Mom Chef award if there ever was one. I know they really liked it, because they even gave me some suggestions for when I made it again. They love Chili Lime salt. They wondered if I could use that in the masa next time, and could I layer more cheese in the middle? Yes and yes!
So, without further ado, here's the recipe. I hope it brings as much comfort and love to your table as it did mine, and I hope it inspires you to revisit one of your old childhood recipes that brought you joy as a kid.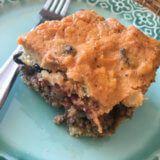 Meatless and Dairy-Free Tamale Pie
Ingredients
4

cups

masa

(such as Bob's Red Mill)

1

teaspoon

salt

4

cups

hot water

1

onion

, chopped

1

tablespoon

olive oil

1

bag Beyond Meat Beefy Crumbles

1 14

ounce

can pinto beans

, drained and rinsed

1 15

ounce

can chopped tomatoes

, drained

1

can sliced black olives

1

container Heidi Ho Creamy Plant-Based Cheese
Instructions
Preheat the oven to 350 degrees.

Combine masa, salt and water in a bowl.

Spread half of the masa mixture into a 9 inch square casserole dish (or use a pie dish).

Heat the olive oil in a saute pan and add the onion. Once it is golden brown, stir in the Beefy Crumbles. Cook for 5-7 minutes until it is cooked through.

Layer the meat on top of the masa, followed by the beans, tomatoes, and olives.

Spread the other half of the masa on top of the casserole.

Heat the Heidi Ho cheese until melted. Spread on top of the masa.

Bake for 30 minutes.
Do you have any old recipes from when you were a kid that you have remade into your own? I'd love to hear about them. Please share in the comments below.