Chilaquile Breakfast Casserole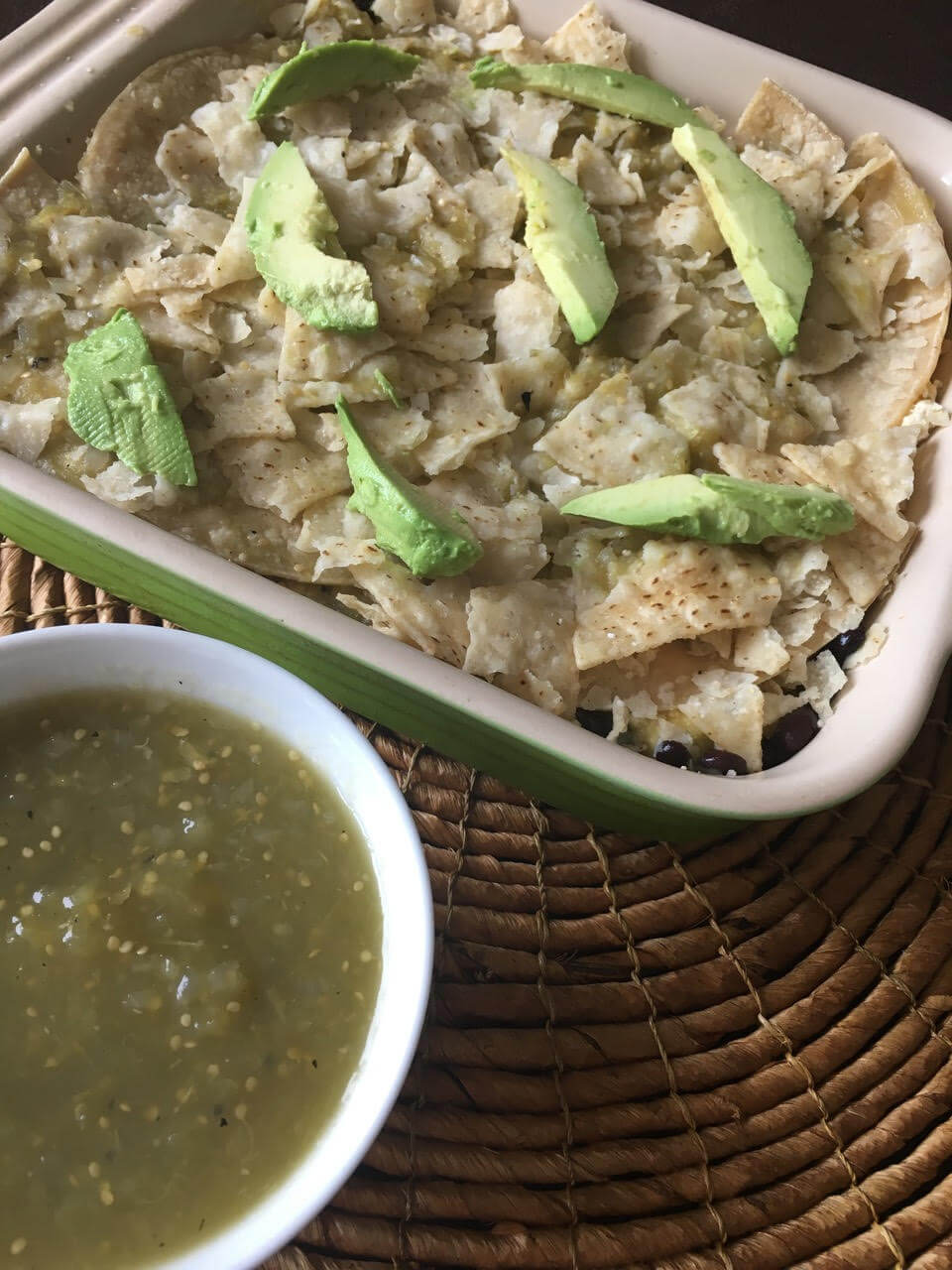 This chilaquile breakfast casserole is going to delight your family morning!  Chilaquiles are a traditional Mexican dish.  It is prepared by frying corn tortillas cut into triangles as the base of the recipe, and then topped with green or red salsa.  The mixture is then simmered and topped with crema, queso fresco, onion, and avocado.  It is commonly served with eggs and refried beans.  I haven't eaten this delicacy since living in Mexico during a summer study abroad program 22 years ago.  I love all things Mexican food, but this dish has to be one of my favorites.  My diet has changed a lot since then.  I was craving this dish recently and got to thinking about how I could not only veganize it, but turn it into a casserole that I could make ahead and enjoy on a lazy Sunday morning. Hence, the idea of this chilaquile breakfast casserole was born!
I decided to go green and use a jarred salsa verde from Trader Joe's.  It is delicious in this chilaquile breakfast casserole, but they also have a salsa rojo that would work well.  You can use whichever you prefer and any jarred variety you'd like. Of course, you can also make a fresh salsa, but it's New Year's Eve so I took some help from the store to make as less work as possible and more time for party fun.
I added more depth to this dish by putting the "eggs" and beans inside the casserole, as opposed to serving them on the side.  Instead of eggs, I used some seasoned tofu.  I also opted for black instead refried beans to keep things a bit healthier.  To put it all together, it's just a matter of layering everything together like any good casserole.  Prep it all the night before, refrigerate, and cook the morning of!  To serve, have plenty of salsa verde on the side, along with avocado slices, and some dairy-free sour cream.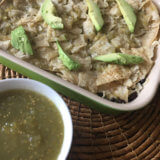 Chilaquile Breakfast Casserole
Ingredients
2

cups

salsa verde

, divided

2

cups

tortilla chips

, divided

4

corn tortillas

, cut into strips

14

ounces

firm tofu

1/4

cup

nutritional yeast

1

can black beans

, drained and rinsed

1/2

cup

yellow onion

, chopped
Instructions
Pour 1/4 cup salsa verde in the bottom of square 8-inch casserole dish.

Crush 1 cup of tortilla chips with your hands and sprinkle on top of the salsa.

Place half of the tortilla strips on top of the chips, laid out across the bottom of the dish.

Heat 1 tablespoon of oil in a large pan and saute the onion. Crumble the tofu with your hands and add to the pan, along with 1/4 cup salsa verde and the nutritional yeast. Cook for 5-7 minutes until tofu is golden.

Remove from the heat and reserve half of the mixture, saving the other half for another use.

Pour 1/4 cup salsa verde over the tortilla strips. Use a rubber spatula to spread out the salsa over the tortillas.

Spread the tofu mixture over the salsa.

Sprinkle half of the can of beans over the tofu. Reserve the other half for another use.

Pour 1/4 cup salsa verde over the beans.

10. Lay out the remaining tortilla strips over the salsa.

11. Pour 1/4 cup salsa verde over the tortillas.

12. Crush the remaining cup of tortilla chips with your hands and sprinkle on top of the salsa.

13. Drizzle with additional salsa.

14. Bake at 350 degrees for 20 minutes.

15. Serve with dairy-free sour cream, avocado slices, and additional salsa.
For more healthy and delicious recipes, be sure to download a copy of my Fast & Fresh Meals Cookbooklet.  Just click on the image below.